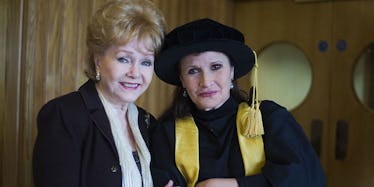 New Carrie Fisher And Debbie Reynolds Documentary Trailer Will Give You Chills
REX/Shutterstock
Get those tear buckets ready, everybody. It's gonna be a LONG two-ish minutes.
Just a week after the deaths of Hollywood icons Carrie Fisher and Debbie Reynolds, HBO has released a trailer for its documentary "Bright Lights: Starring Carrie Fisher and Debbie Reynolds."
The documentary centers around the incredibly complex mother-daughter relationship of Fisher and Reynolds, whose storied lives in Hollywood were riddled with substance abuse, infidelity, Oscar nominations, divorce and mental illness.
The clips from the documentary are absolutely heartbreaking.
HBO originally slated the documentary for release in March but has since moved up the premiere date to January 7 at 8 pm. The Daily Mail speculates the release was pushed up because of the two actresses' deaths.
Last week, four days after suffering from cardiac arrest while on an airplane, "Star Wars" icon Carrie Fisher died at the age of 60.
A day later, Carrie's mother and Hollywood legend Debbie Reynolds suffered a fatal stroke. She was 84.
Carrie's brother and Debbie's son, Todd Fisher, told reporters Debbie's death was a result of stress from the death of her daughter.
During one of the last conversations Todd had with his mother she apparently told him she wanted to be with Carrie.
Carrie, whose father was world famous singer Eddie Fisher, is survived by her daughter, "Scream Queens" star Billie Lourd.
On the one-week anniversary of her mother's death, Billie posted a small tribute to her later mother and grandmother on her Instagram page.
In it she wrote,
Receiving all of your prayers and kind words over the past week has given me strength during a time I thought strength could not exist. There are no words to express how much I will miss my Abadaba and my one and only Momby. Your love and support means the world to me.
Our thoughts and prayers are with the Fisher family.
Citations: I am my moms best friend Incredible bond between Carrie Fisher and Debbie Reynolds is revealed in new HBO documentary filmed a year before their deaths (Daily Mail)