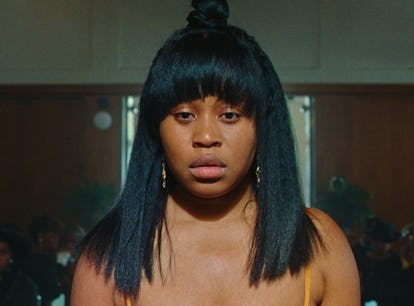 Swarm Not-So-Subtly Reimagined These 7 Iconic Beyoncé Moments
We finally know who bit Beyoncé. Kind of.
Prime Video
You don't have to be a lifelong member of the Beyhive to see how Beyoncé inspired the new Prime Video series Swarm. The seven-episode show about a superfan's mission to murder anyone who disses her pop idol is a modern parable about the toxic underbelly of stan culture, and Queen Bey is at its center. Swarm may not mention Beyoncé by name, but the mononymous musical superstar Ni'Jah is clearly inspired by her, and the series very clearly recreates several iconic Beyoncé moments to really drive the point home.
Spoiler alert: This post contains spoilers from throughout Swarm. From its bee imagery and numerous nods to the famously passionate Beyhive, Swarm isn't really hiding the source of its inspiration at all. The show's stand-in for Bey is Ni'Jah, an empowering singer who's long been the object of superfan Dre's obsession. As Dre remorselessly executes anyone who dares speak (or tweet) a less-than-favorable word about her favorite artist, she also slowly creeps closer to Ni'Jah. The journey takes place over a couple years in the late 2010s, and the show has a lot of fun with that specific time period. Several real-life Beyoncé events, controversies, and releases are referenced, recreated, and totally reimagined, and spotting them all is a real treat for fans.
1. The Lemonade Drop
Every true Beyhive member knows exactly where they were on April 23, 2016. That night, without any warning, Beyoncé dropped her album Lemonade along with an hourlong visual companion film that became the only thing anyone would talk about for weeks to follow. Swarm recreated this pivotal release by having Ni'Jah surprise-drop her own fictional album, Festival. From messages on Dre's phone, it's clear Festival is the Swarm universe's Lemonade, as Ni'Jah fans feverishly theorized the album was a breakup message to her rapper husband Caché.
2. The Elevator Video
Yes, Swarm even brought back that infamous elevator video. A brief scene in the series showed Ni'Jah's sister attacking Caché while in an elevator, an obvious allusion to the 2014 video that seemed to show Solange Knowles hitting Jay-Z in an elevator at The Standard hotel in Manhattan. The show actually references Solange a lot, with a few characters getting on Dre's nerves when they admit they prefer the more "spiritual" music of Ni'Jah's sister.
3. The 4:44 Tour Rumors
Dre is able to sneak into the last show of Caché's tour after hearing rumors that Ni'Jah may show up. Caché's tour the show's answer to Jay-Z's 2017 4:44 Tour. As that tour reached its final stop in Inglewood at the end of 2017, fans were clinging to rumors that Bey might show up, which she did... but only at the after-party.
4. The Biting Controversy
Speaking of that after-party, it actually became quite infamous and a source of serious investigation within the Beyhive. Tiffany Haddish let slip in a 2018 interview that an unnamed actress bit Beyoncé while at that after-party. Intrepid stans guessed that Love & Basketball star Sanaa Lathan may have been the culprit, but she denied it, and the mystery remains unsolved. But Swarm imagined an answer to the Beyhive's ultimate question, as Dre loses herself in ecstasy while munching on a snack right in front of Ni'Jah and soon realizes she went too far and actually bit her queen. As she ran from the scene, one of the waiters confused Dre with "the chick from Love & Basketball."
5. Beychella
Beyoncé's 2018 Coachella performance is still one of the most legendary concerts ever, so of course Swarm had to throw in a reference to it. In the show, Ni'Jah is performing at Bonnaroo instead of Coachella, and a foiled Dre had to settle for live-streaming the performance from her phone, the way many of us watched Beychella on that sacred night in 2018.
6. The On The Run II Tour
Beyoncé had one of her biggest tours ever in 2018 when she co-headlined the On the Run II Tour with her husband, Jay-Z. Swarm hilariously renamed the tour the Running Scared II Tour for Ni'Jah and Caché.
7. The Stage Invasion
During one night of the On the Run II Tour, a drunken fan hopped onto the stage and chased after Beyoncé. The moment is echoed in Swarm's final scene, as Dre jumps onto the stage to try to embrace Ni'Jah. The real fan was apprehended before he could reach Bey, but Dre actually got to connect with Ni'Jah in her moment. Or maybe that was all in her heard. It was probably all in her head, right? The ending is kind of confusing.