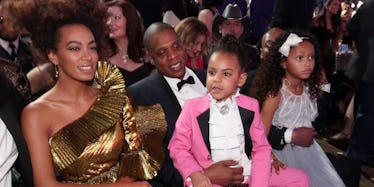 JAY-Z Finally Spoke About That Elevator Fight With Solange And It's So Emotional
Christopher Polk/Getty Images for NARAS
If you were living under a rock back in 2014, you might have missed that crazy video that leaked of JAY-Z and his sister-in-law, Solange Knowles, getting into a fight in an elevator after the Met Gala. But no worries if you did, because you haven't missed a celebrity feud: the two are apparently good now. JAY-Z spoke about that elevator fight with Solange in a recent interview, and he says that there are no hard feelings.
"We've always had a great relationship," JAY-Z said of his sister-in-law in an interview on Tidal's Rap Radar podcast on Aug 18. "We've had one disagreement ever. Before and after, we've been cool," he said, as reported by Buzzfeed News.
He seemed, of course, to be speaking about that infamous video captured in the elevator at the Standard Hotel in New York City after the Met Gala in 2014. A security camera caught Solange attacking her brother-in-law, hitting and kicking him as Beyoncé looked on. She only stopped when a security guard grabbed her and pulled her away — and even then, only for a moment. Several times, the video shows Solange calming down only to start attacking JAY-Z again.
Fans later speculated that the elevator incident was in retaliation for JAY-Z allegedly cheating on Beyoncé. And, uh, yeah, we were probably right. On his most recent album, 4:44, JAY-Z seemed to confirm the theory in the title track. He sang,
You egged Solange on / Knowin' all along, all you had to say you was wrong / You almost went Eric Benét / Let the baddest girl in the world get away
But he's not egging her on now, and apparently everything is going pretty well.
In the interview, he talked about Solange like a sibling, saying how he fought with his brothers growing up. "It just so happens, who we are, these things go into a different space, but it ain't nothing," he said.
JAY-Z went on to say that Solange wasn't just family-by-marriage: she was family, all the way. "She's like my sister," he said. "I will protect her. That's my sister. Not my sister-in-law. My sister."
And he defended her as an artist as well as a family member. When asked about the fact that all three people involved in the fight have seen amazing success in their latest albums, he basically just said: it's talent.
I've always loved Solange's music. I think she was slept on before [A Seat At The Table]. I thought the album before this one was amazing too. Incredible artist.
So clearly, not only no hard feelings, but serious admiration all the way around.
Which, awesome. Blue Ivy, Rumi, and Sir already have the raddest momma and dad around. You've gotta keep that trademark Cool Aunt in the picture just to round it out.