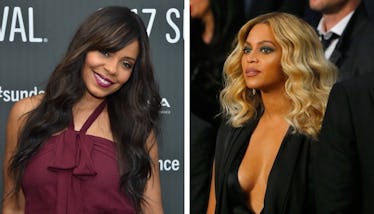 Sanaa Lathan Responded To Rumors She Bit Beyoncé & I'm Done With The Internet
Michael Loccisano & Al Bello/Getty Images Entertainment/Getty Images
I, like you, am just about FED UP with this life, today. That's because there's an allegation floating around that somebody bit Beyoncé in the face, and it has me so riled up, I almost can't enjoy my afternoon Instagram stalking. It all started when Tiffany Haddish claimed an actress bit Beyoncé on the face at a party she was at in December 2017, and it's been nothing but chaos ever since. After rumors floated on Twitter that it was actress Sanaa Lathan who allegedly bit Beyoncé, the star quickly took to social media to debunk them, writing, "Under no circumstances did I bite Beyonce." Elite Daily reached out to Beyoncé's team about the reported incident, but had not heard back at the time of publishing. When GQ asked Beyonce's representative, Yvette Noel-Schure, for comment on the general report, she said, "I absolutely cannot comment on any of this, as I have no knowledge."
In an interview with GQ magazine published Monday, March 26, Haddish claimed an actress "that [was] just, like, doing the mostest" allegedly "bit Beyoncé in the face." According to a TMZ article published March 27, Haddish reportedly told "multiple people" the actress is Lathan, even though Lathan denied those claims a day earlier. Elite Daily reached out to Haddish's team for comment on TMZ's report, but did not hear back at the time of publication. You can read Lathan's full response on Twitter to the rumors below:
Y'all are funny. Under no circumstances did I bite Beyonce and if I did it would've have been a love bite.
Lathan is best known for her roles in the movies The Best Man, The Best Man Holiday, and my personal teenage favorite, Love & Basketball!!! God, I love that movie.
In her interview with GQ, Haddish claims she saw the bite happen IRL:
So Beyoncé stormed away, went up to Jay-Z, and was like, 'Jay! Come here! This b*tch—' and snatched him. They went to the back of the room. I was like, 'What just happened?' And Beyoncé's friend walked up and was like, 'Can you believe this b*tch just bit Beyoncé?' And so then… a lot of things happened.
Haddish also said she wanted Beyoncé to know she would defend her, like, physically. In the GQ interview, Haddish claimed she tapped Beyoncé on the shoulder and told her, "I'm going to beat somebody's ass at your party. I just want to let you know that." In true Beyoncé fashion, she reportedly told Haddish to "have fun" instead.
Haddish claimed,
Near the end of the party, Beyoncé's at the bar, so I said to Beyoncé, 'Did she really bite you?' She was like, 'Yeah.' I was like, 'She gonna get her ass beat tonight.' She was like, 'Tiffany, no. Don't do that. That b*tch is on drugs. She not even drunk. The b*tch is on drugs. She's not like that all the time. Just chill.'
Obviously, fans, including Chrissy Teigen, are dying to get to the bottom of this story. Though Teigen initially tweeted, "I can not leave this planet without knowing who bit Beyonce in the face," it seems like with great knowledge comes great responsibility.
Teigen later admitted on NBC's Today show on Tuesday, March 27, she does know who did it, but will never tell. She said,
It's not who I thought. The problem is, I love everybody involved so I'm like zip... If I had a dollar for every time that I had a few glasses of wine or something and would have done something like that… I asked John yesterday, I was like 'It's not me, is it?'
And there's definitely proof that Haddish and Beyoncé run in the same circles, considering this selfie Haddish posted from that December party:
I don't know. It sure looks like anything is possible from here.
If you'll excuse me, I'm literally EXHAUSTED imaging this scenario and need to go pray to my Beyoncé shrine and take a nap. As a general rule: Don't bite anyone in the face, guys.
Check out the entire Gen Why series and other videos on Facebook and the Bustle app across Apple TV, Roku, and Amazon Fire TV.