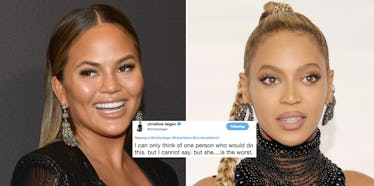 Chrissy Teigen Says She Knows Who Bit Beyoncé & The Tweets Are Hilarious
Tara Ziemba/Brad Barket/Getty Images/Twitter
Who bit Beyoncé? This question has been burning through my mind ever since Tiffany Haddish claimed an actress bit Beyoncé's face at an after-party for one of JAY-Z's concerts in December. Haddish was at the same party, and she told her version of the reported incident with GQ. Elite Daily reached out to Bey's team for confirmation of Haddish's story, but did not hear back by time of publication. Beyoncé's representative, Yvette Noel-Schure, also told GQ, "I absolutely cannot comment on any of this, as I have no knowledge." Regardless, the internet has basically started a full-fledged investigation on Twitter into who reportedly bit the queen. The queen of Twitter tweeted about it, of course, and Chrissy Teigen's tweets about who bit Beyoncé are some of her best work.
Teigen started off her Beyoncé tweet thread by saying, "I cannot leave this planet without knowing who bit Beyonce in the face." Girl, same. So, tell us what you know. As her thread went on, Teigen revealed she had her own theories about who the biter could be. Based on the info people online could find out about the guest list of this December party, the internet thinks it has narrowed the possible culprits down to four people. There's still no confirmation on who actually bit Bey (or if this story is even real), though, so these names are all just unconfirmed theories as of now.
Teigen had her own theory about who the alleged biter could be, but she wouldn't say who. She tweeted, "I can only think of one person who would do this. but I cannot say. but she....is the worst."
If you're new to this story, allow me to provide some context. Tiffany Haddish posted this selfie of her and Beyoncé to Instagram on Dec. 22, 2017.
At first, people thought Beyoncé was hiding her face just as a pose for the picture, but as it turns out, she hid her face because someone reportedly bit her face. Haddish told Vulture in January that she almost got in a fight with someone at this very same party, but Beyoncé reportedly told her to "have fun" instead. Haddish then told TV One in a February interview that the person she was going to fight was an actress who was hitting on JAY-Z. But now, in an interview with GQ, Tiffany Haddish claims she was going to fight an actress because she had reportedly bit Beyoncé's face! Sweet Jesus, what a night this must've been. Haddish claims, "There was this actress there that's just, like, doing the mostest." This actress was reportedly on drugs, according to Haddish, and she reportedly bit Queen Bey. Haddish detailed what went down after the bite, claiming,
Beyoncé stormed away, went up to JAY-Z, and was like, 'JAY! Come here! This b*tch—' and snatched him. They went to the back of the room. I was like, 'What just happened?' And Beyoncé's friend walked up and was like, 'Can you believe this b*tch just bit Beyoncé?' And so then, a lot of things happened.
Oh, I bet. Haddish claims,
Near the end of the party, Beyoncé's at the bar, so I said to Beyoncé, 'Did she really bite you?' She was like, 'Yeah.' I was like, 'She gonna get her *ss beat tonight.' She was like, 'Tiffany, no. Don't do that. That b*tch is on drugs. She not even drunk. The b*tch is on drugs. She not like that all the time. Just chill.'
I don't know how Beyoncé kept her chill, but clearly she is an iconic queen who is stronger than all of us and we are not worthy of her light and guidance.
Chrissy Teigen claims to know who bit Beyoncé, and she went on NBC's TODAY on March 27 to talk about it with Kathie Lee Gifford and Hoda Kotb.
She said on TODAY, "This is like the modern-day 'Who shot J.R.?'" ("Who shot J.R.?" was a marketing campaign used to promote a plot line of the show Dallas back in 1980.) Kotb and Gifford kept on pressing her for info (like everyone on Twitter was doing), but Teigen wouldn't reveal who the reported biter is. She did say she knows who did it, though. "Listen, I think we've all done things under the influence," she laughed. "It's not who I thought, I will say, but the problem is I love everybody involved." And there you have it, her lips are sealed!
Teigen's tweets about knowing who bit Beyoncé are such a fascinating saga. First, it started with her thinking it was one person who is "the worst," but she was apparently proven wrong.
Then she teased us with this tweet.
No, Chrissy. I don't know. That's why I need you to tell me.
Then she talked about her first guess again, still not revealing anymore info about the reported Beyoncé Biter™.
She tweeted, "My initial guess was wrong. The real person? I *never* would have guessed. I'VE SAID TOO MUCH." At this point, I have literally no clue could have possibly bit my lord and savior in the face.
Then she tweeted, "I AM NEVER TELLING I'm scared I've said too much KNOWLEDGE IS A CURSE!"
As you can imagine, the BeyHive is in full-on detective mode.
For now, this still remains a mystery. But trust, if there is any fandom in the world that can figure this out, it's the BeyHive. They are in full-on Liam Neeson in Taken mode and I give it about one more day before they have a definitive prediction of who reportedly bit Beyoncé.
Yesterday, the BeyHive be like:
Today, the BeyHive be like:
With or without Chrissy Teigen's help, we will uncover who reportedly bit Beyoncé.