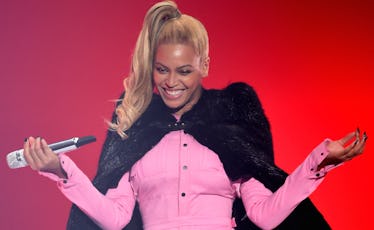 Beyoncé's Reaction To The "Who Bit Beyoncé" Drama Was Reportedly Chill & We're Surprised
The "who bit Beyoncé" saga is still ongoing, and Queen Bey herself might've finally given her reaction to the whole thing. On March 26, Tiffany Haddish claimed in an interview with GQ that at an after-party for one of JAY-Z's concerts in December, an unnamed actress allegedly bit Beyoncé's face. Haddish claims she was there when the alleged bite went down and knows who did it, although she also claims she didn't see it happen. Now that the internet has properly freaked out over this, Bey's response might finally be here. Beyoncé's reaction to the "who bit Beyoncé" drama, according to Us Weekly, was super chill. (Elite Daily reached out to Beyoncé's team for comment on Bey's reported reaction as noted in the Us article, but did not hear back by the time of publication.)
We already know Beyoncé's reported reaction to the bite itself thanks to Haddish's story, but she has remained silent about the internet frenzy following this story. Yvette Noel-Schure, Beyoncé's representative, told GQ she has no knowledge of the reported bite, so we can't look to her to find out who could've bit Bey/determine if it actually happened. "I absolutely cannot comment on any of this, as I have no knowledge," she told GQ. (It's also important to note that Beyoncé herself hasn't confirmed the bite actually happened.) A source reportedly Us Weekly on March 27 that while Beyoncé reportedly thinks it's nice of everyone to worry about her so much, she'd rather not make the alleged biter feel bad about themselves. What a woman. "She thinks it's sweet people are so concerned," the source said, "but also doesn't want to make life hard for the person that did it."
The source continued,
Beyoncé's team is being contacted by almost everyone they've ever met! They are getting texts and calls asking, 'Were you there? What did you see? Have you heard anything?' It's pretty insane for anyone that works with Beyoncé.
When the internet learned about this whole ordeal, they lost it. "Who bit Beyoncé?" started trending on Twitter not long after, and it wasn't just the BeyHive trying to figure out whodunit.
Haddish's account of what happened at that now-infamous party started off with her claiming, "There was this actress there that's just, like, doing the mostest." According to the interview, she didn't see the reported bite happen, but she reportedly witnessed the moments just after it.
Haddish claimed,
Beyoncé stormed away, went up to JAY-Z, and was like, 'JAY! Come here! This b*tch—' and snatched him. They went to the back of the room. I was like, 'What just happened?' And Beyoncé's friend walked up and was like, 'Can you believe this b*tch just bit Beyoncé?' And so then, a lot of things happened.
She claimed,
Near the end of the party, Beyoncé's at the bar, so I said to Beyoncé, 'Did she really bite you?' She was like, 'Yeah.' I was like, 'She gonna get her *ss beat tonight.' She was like, 'Tiffany, no. Don't do that. That b*tch is on drugs. She not even drunk. The b*tch is on drugs. She not like that all the time. Just chill.'
So, what I'm getting here is Beyoncé was reportedly chill about someone allegedly biting her face, and she reportedly wanted to make sure the biter didn't feel bad about themselves afterward... Honestly, wow. Does the grace of this woman know no bounds?! Will Beyoncé's wonders never cease?! I knew I stanned a legend, but this makes my love go even deeper.
In addition to her tweet thread about the mystery, she appeared on NBC's TODAY on Tuesday, March 27, to talk about what she knows. (Well, she went on the show to talk about a lot of things, but naturally, Kathie Lee Gifford and Hoda Kotb asked her what she knows about this Bey debacle.)
She said in one of her tweets on March 27 that she knows who the reported biter is, but she'll never tell.
"My initial guess was wrong," one of her tweets said. "The real person? I *never* would have guessed. I'VE SAID TOO MUCH." She tweeted again, this time saying, "I AM NEVER TELLING I'm scared I've said too much KNOWLEDGE IS A CURSE!"
On the TODAY show, Gifford and Kotb asked her straight-up, "Who bit Beyoncé?" Teigen responded, "It's not who I thought, I will say, but the problem is I love everybody involved." So, it looks like if we really want someone to spill the beans about who this reported biter is, Chrissy Teigen is not the one to ask. On to Tiffany Haddish!