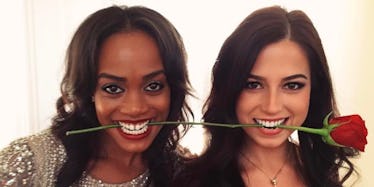 'Bachelorette' Rachel Sends Love to Kristina After That Whole Dean Mess On 'BIP'
Instagram/@KristinaSchulman
Even though Rachel Lindsay and Kristina Schulman have a shared history with two men doesn't mean the Bachelor alums can't show support for one another. Former Bachelorette Rachel's reaction to Dean in Bachelor In Paradise comes in the form of a heartfelt tweet to Kristina, showing she's got nothin' but love and motivational words of wisdom to share when it comes to the whole crazy situation.
Kristina shocked everyone when she dramatically declared she was leaving Mexico during this week's tense rose ceremony. Dean -- who hasn't exactly been a fan fave this season -- had her caught up in a bit of a love triangle when he expressed he wanted to explore a relationship with Danielle L. Big mistake. Huge. Because Kristina wasn't gonna stand by and watch Deanie Baby's actions. In a bold speech, she told her fellow BIP cast members that she wanted to "be valued and respected." And then... she was gone.
Bachelor Nation came to Kristina's defense on Twitter, but so did beloved Bachelorette Rachel. Oh, hey, Rach!
And that love was mutual.
Never settle is right. I guess the phrase applied to Rachel's own experience with Dean on her season, as she followed her heart and sent him home after the hometown dates. She previously explained to Ryan Seacrest, "I felt like he wasn't ready for the same things I was."
And maybe he wasn't ready for Kristina, either. Dean took to Instagram to post a throwback photo of the two of them and, well, his caption pretty much says it all. "You were out of my league," he wrote.
Not sure a too-little too-late pic like that is enough to completely win back the hearts of America, but the guy's trying. Hmm, we wonder what D. Lo thinks about this, if anything.
Despite all the drama, Kristina is looking ahead and happier than ever, according to her social media. And if she needs one more person to count on, at least she knows Rachel has got her back.