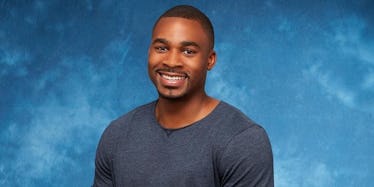 This 'Bachelorette' Contestant Was A Professional Basketball Player In Bulgaria
ABC
The newly-announced cast of The Bachelorette is finally out, and it includes a former professional basketball player.
Michael, one of the 31 men competing for Rachel Lindsay's heart in the upcoming season, lists his occupation as "former professional basketball player."
Now, that may not be quite as, um, interesting as a career as a "Tickle Monster" or a "Whaboom," but it still sparks a lot of questions.
Well, that's a lie. It really just sparks one question: Which professional basketball team did he play on?
Luckily, Michael's profile gives us some more clues to figure the basketball mystery out.
We know that he is 26 years old and six-feet-tall, but there are a lot of basketball players who are six-feet-tall and maybe also 26 and named Michael.
That's where another important clue about Bachelorette contestant Michael comes in.
When asked about the "most outrageous thing" he's ever done, Michael answered,
Sign a contract to play professional basketball in Bulgaria.
Bingo.
According to USBasket, there are just three American men named "Michael" or "Mike" who have played basketball in Bulgaria in the past five years.
One of those three is a Mike Black: Six-feet-tall, born in December 1990.
Mike Black was apparently a guard on the Bulgarian team Beroe from 2014 to 2015.
He went undrafted in the 2013 NBA Draft and is an unrestricted free agent, according to Real GM.
Before getting to Bulgaria, Black was a guard at the University of Albany from 2009 to 2013. He's from Chicago.
Black had an impressive tenure at the University of Albany. He was named to the America East All-Conference First Team in his final season with the school and started in 94 consecutive games, which honestly just sounds exhausting.
In his senior year, Black scored over 20 points in nine games and scored a game-winning layup against Vermont in the America East Finals.
Black said he "loved" his time with Albany in a 2013 interview with the Chicago Tribune.
"It's nice to go out with a bang," he said of his successful senior year. "My freshman year was terrible. To go from winning seven games as a freshman to 24 and going to the tournament as a senior is a blessing."
He certainly seems to have a competitive but positive nature. We'll see how that plays out on Bachelorette.
Citations: Mike Black (Real GM), Mike Black (U Albany Sports), Catching up with Fenwick grad Mike Black at Albany (Chicago Tribune)