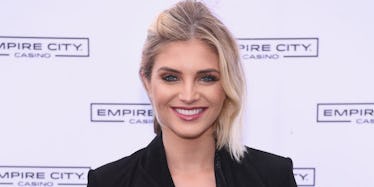 'Bachelor' "Villain" Olivia Reacts To 'Bachelor In Paradise' Incident – EXCLUSIVE
Dave Kotinsky/Getty Images for Empire City Casino at Yonkers Raceway
Bachelor Nation is responding to a first in the franchise's history this week: the cancellation of an entire season.
Bachelor in Paradise was suspended indefinitely following an alleged incident of misconduct that reportedly occurred between contestants DeMario Jackson and Corinne Olympios during filming.
Update: On June 14, DeMario Jackson gave E! Online the following statement about the Bachelor in Paradise suspension and claims about his involvement: 
"It's unfortunate that my character and family name has been assassinated this past week with false claims and malicious allegations. I will be taking swift and appropriate legal action until my name is cleared and, per the advice of legal counsel, will be seeking all available remedies entitled to me under the laws."
Earlier: Warner Brothers told Elite Daily,
We have become aware of allegations of misconduct on the set of Bachelor in Paradise in Mexico. We have suspended production and we are conducting a thorough investigation of these allegations. Once the investigation is complete, we will take appropriate responsive action.
In the wake of these reports, everyone from host Chris Harrison to fans to former contestants are weighing in with a response.
Elite Daily had the chance to chat with Olivia Caridi, former Bachelor contestant and current host of the Bachelor Nation podcast on Anchor, about her take on this week's news and what it might mean for the franchise as a whole.
Caridi, who was dubbed the villain of Ben Higgins' season, briefly met up with fellow villain Corinne Olympios last year, and while they haven't remained super close, the pair definitely shares similar experiences in how they were portrayed on screen.
Caridi, who admitted she is "so happy" in light of everything that she never did Bachelor in Paradise, spoke to Elite Daily about her reaction to the cancellation of the show, what her experience with producers was like during her season, and her thoughts on Olympios.
Elite Daily: What is your reaction to the alleged Bachelor in Paradise incident between DeMario Jackson and Corinne Olympios?
I obviously don't know exactly what happened. I don't think anyone actually knows exactly what happened…  I feel like this affects so many people, not only the alleged people involved, Corinne and DeMario, but so many people who were really looking forward to this this summer... some people left their jobs for this... so it's just really sad all around that it's not happening because I know so much of Bachelor Nation looks forward to Bachelor in Paradise as kind of the comedic relief from the seriousness of The Bachelor and The Bachelorette. It's sad all around and then... there's so much misinformation out there and everyone is talking... so many rumors are being spread... It's like a dark cloud over the franchise… I feel like it's almost like this hangover feeling. I wake up every day and… it's this sadness. It's weird.
ED: Does this incident affect your perception of the franchise as a whole and do you think it will leave a lasting negative impression with fans?
You know, it's funny because two weeks ago I would have said The Bachelor is going to be around forever, and I still think it will come back and they will find a way to bring it back... I do feel like this is not the first time there has been a controversy of some sort on this show and they've always kind of managed to recover in time, but I feel like this is something that's just different. It's something that this show has never seen before. A season has never been canceled on the show in years and years and years, and I do feel like not only has it taken a toll on the people involved, but like I hate to say, it probably affects Rachel's season. And that's obviously really sad for her because she took all of this time out of her life to do the show and all of her guys did, too. I just feel like it's something that makes people look at this whole franchise differently and especially with all of this misinformation out there and so many different stories that people just look at this and think that maybe The Bachelor franchise was walking too close to the fire for maybe a long time and then it just… it's just a nightmare.
ED: You had the chance to meet Corinne and you kind of bonded over both being the villains of your seasons? What do you think of Corinne as a person?
I will say that she was so much like she was on television – like very confident, she says whatever she wants, she's very forward. So it was actually kind of nice... All I'd ever hear is, 'You're so different than you were on television.' It was really nice seeing someone who is exactly what they are on television. She was never shy about saying that she wants TV shows, she wants to be famous. And I actually admired that in her because I feel like so many people from this franchise secretly want that and don't admit it. But like, I met her briefly and she was exactly who she is on the TV show. I have not really spoken to her… I've tried to get her on my podcast a couple of times and it's never worked out 'cause she's always jet setting, but I don't really know her that well. I just know that she wants good TV. She'll do anything for good TV, from what I can tell. So that's who she is.
ED: In your experience on The Bachelor, what was the level of involvement from the producers?
The one thing I will say is that alcohol was never forced on us. Like, people have this mindset that the producers are hazing us, making us drink and that's just not the case. I was sober on Ben's season, never took a drink. So in many ways this whole argument of someone or many parties being too drunk, that's just adults making poor decisions. No producer puts a line of shots in front of you and says, 'Take them all.' It doesn't happen... that's a rumor that I'd like to dispel. I've never done Bachelor in Paradise, but I have to imagine that some of the producers go into it and maybe think, 'Oh, this could be a couple, this could be a couple'... The people might have thought that [Corinne and DeMario] would make a cool couple and that they were both villains and let's try to push them to each other. And they made the decisions after that to do what they did. And whatever happened, is what happened. For me, I have my own animosity toward my producer and that's my own thing but I was never forced beyond my will to do anything that I didn't want to do... They do not force you. They will suggest things that in turn could make very good TV, but you have every power in you to say no.
ED: You also were quite open about struggling after the show from all the internet hate and bullying. What do you think of production manipulation on the show in general? Do you think it goes too far?
I came out of this show and I had an idea that I was going to probably be a character that was polarizing, and that makes sense, but I did question as I was watching it live why certain things were taken as far as they did. To a point where not only was it embarrassing enough that I had such a hard time on the show but for the public humiliation to go even farther and farther and farther, to the point where you're making fun of my public appearance... Everything about me was basically made fun of, so that was obviously a bummer. So yeah, in that respect, I do feel like there are some contestants, myself included, who are not emotionally prepared for the backlash and the onslaught of public opinion. And even now, l'm looking at Corinne's Instagram, I'm looking at DeMario's Instagram, and no matter what happened, people are just making outrageous sexual assaults, racism claims that are just insane. It's just really sad where social media has gone and I don't think anyone is truly prepared for the onslaught of people, and I just think that there are certain things even that the show delivers, that they come off as funny but it's actually pretty hurtful. I'm not trying to bring myself into this, I just feel like every year it's gotten more and more... I actually want to go back and watch the show the first season and see if they went as hard as they do with people now. Because now I feel like a lot of it is…  they shove the villain down people's throats for a while and then they go home and it's pretty much the same recipe every year. That was my role I guess: pissing everyone off and then leaving.
For more of Caridi's thoughts, feelings, and predictions on Rachel Lindsay's season of The Bachelorette, don't forget to check out her Bachelor Nation podcast.