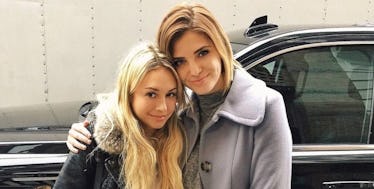 Ex-'Bachelor' Contestant Olivia Met Up With Corinne To Give 'Villain Advice'
Twitter
Whether you love her or hate her, Corinne Olympios is by far the most talked about "Bachelor" contestant this season.
Ever since she took her top off and made Nick Viall cradle her bare breasts, viewers knew a lot of juicy drama would be going down.
Every year, there's one woman the other contestants hate in the house, so this time it's Corinne... obviously, LOL.
Welcome to the good life, girl!
No one knows what it's like to be hated on the show more than former contestant Olivia Caridi.
The 24-year-old news anchor was the villain of Ben Higgins' "Bachelor" season 20. Yeah, remember her?
Well, Olivia decided to meet up with Corinne in New York to offer her advice on what it's like being called "the villain" of the show.
She posted this photo on Twitter and wrote,
For all the people who have (so creatively) tweeted 'OMG Corinne is the new Olivia' -- this is for you. @CorinneOly
Find me a more iconic duo than this. Do it. You won't.
Olivia sat down with PEOPLE to discuss her experience meeting Corinne. She told the magazine,
She's very similar in real life as she is on the show. She's so tiny, which I wasn't expecting. But she's very dry, she's confident, she likes to say whatever she wants to say, which I respect.
Sounds like Corinne!
She added,
We randomly got lunch. A fellow person from Nick's season kind of set us up and I wanted to impart my villain advice. But she didn't need it — she's good.
Apparently, the ladies didn't talk about Nick Viall at all... which is kind of unusual because Corinne is fighting for his heart on the show.
Olivia explained,
We never spoke about Nick at all. She just was talking about some drama and we ended up not even mentioning Nick at all.
HMMMM. If Corinne isn't bringing up Nick at all, does that mean she's sworn to secrecy about the season and can't give away any spoilers?
Does that mean she's hiding something about her relationship with Nick?!
It's still unclear how far Corinne makes it this season, but all I know is the girl better get a hometown date because I will riot if we don't meet Raquel.
Citations: "The Bachelor's" Olivia Caridi Meets Corinne (PEOPLE)