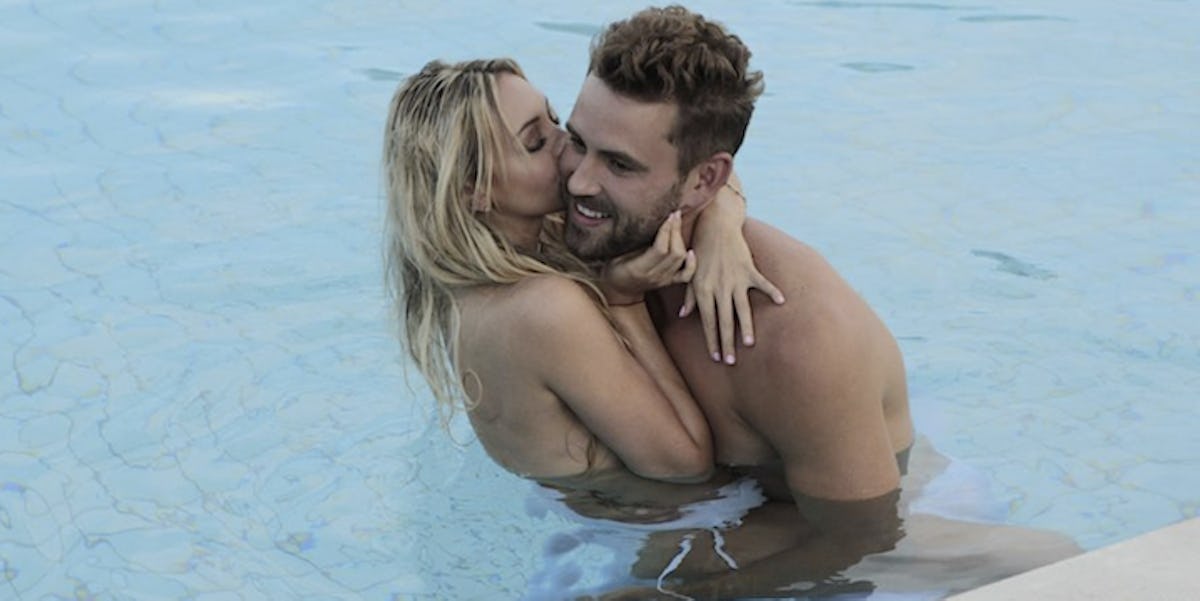 'Bachelor' Nick Viall Defends Corinne Because Everyone Used To Hate Him, Too
Warner Bros. Television
Nick Viall has officially come to defend Corinne, the Wayne Gretzky of "The Bachelor."
Corinne has become the clear breakout star of the show.
As much as Alexis was an early favorite to be the house standout with her shark costume and her life goal of becoming a dolphin trainer, Corinne has dominated the game at almost every turn.
It's honestly inspirational to watch. She plays this show like a kid in an arcade with a handful of coins and a can full of Red Bull, a fact that has put her in some pretty hot water with the other contestants vying to marry Nick.
Viall knows about the house rift between Corinne and everyone else and made sure to address it in his weekly recap blog for People, writing,
It is disappointing to hear so many of the women question Corinne. I've been in Corinne's shoes before so maybe that is why I'm more sensitive to it. I've said it before, but Corinne is always putting us first… and just because she's not always thinking about the other women, doesn't necessarily make her a bad person. However, I am dating these women and I respect the fact that some of them felt uncomfortable for seeing Corinne and me more intimate in the bounce castle than they would have liked. I would never have intentionally put that in the women's faces like that. I thought it was a more private moment, and I do regret the effect it had.
He went on to say,
Moving forward, I became a lot more sensitive to that, I wanted to make sure that the women knew I understood where they came from. I appreciated Vanessa for taking me aside and speaking her mind and bringing up her concerns. But at the end of the day, I need to be able to make my own decisions on what I feel is right for me — and that meant not sending Corinne home. I still felt a strong connection with Corinne and I wasn't going to let the women's personal relationships skew my relationship with her.
If Nick DOES end up sending Corinne home, I'm sure she'll be fine, though.
She has her multi-million dollar business, her nanny and 2 Chainz.
OH, YOU DIDN'T KNOW CORINNE WAS IN A 2 CHAINZ MUSIC VIDEO!?!?
GOD BLESS YOU, CORINNE.
Stay perfect, Corn. #TeamCorn
Citations: Nick Viall on Disappointing Corinne Questions Which Bachelor Lady He Cant Stop Thinking About (People)