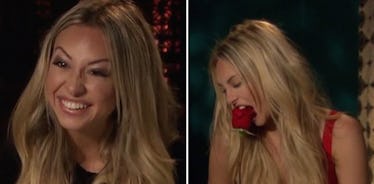 'Bachelor' Contestant Corinne Eats A Rose And Curses Out Girls In Crazy Video
ABC
I know I'll probably get some hate for this comment, but I don't even care: Corinne is 100 percent my favorite part of watching "The Bachelor."
THERE, I SAID IT. CAT'S OUT OF THE BAG. I love her so much and I look forward to every Monday just because I get to watch her big blonde face appear on my TV screen.
Now, would I be friends with the girl? Eh, that's a different story. Corinne is one of the most controversial contestants on "The Bachelor," so I don't know if I'm ready to handle that.
The 24-year-old businesswoman is making headlines yet again for going on a crazy rant in Monday night's episode.
Corinne has a lot of beef with the other contestants... ya know, because she takes her top off and makes Nick Viall cup her bare boobs with his hands.
It's the little things that piss girls off.
So, anyway, contestant Taylor Nolan decided to speak up about her feelings toward C-baby.
The 23-year-old mental health counselor decided to talk things out with the "Bachelor" villain but things went terribly, terribly wrong.
The ladies took a seat and basically bitched each other out for five straight minutes. You want quality reality TV? This is it, people.
Throughout the night, Corinne got a lot of hate from several women in the house.
Taylor, Danielle and Kristina all bitched her out for being "immature" and selfish.
Corinne didn't give a fuck, though. Check out her response below.
Honestly, that was inspirational. Goals, man. Goals.
In one of the most dramatic moments of the season so far, Corinne gave a fake toast to the girls after she found out everyone was shitting on her.
In the clip below, you can watch Corinne curse out the girls and eat a rose because WHY THE HELL NOT?!
She says to the camera,
I just want to tell the girls who were talking about me, 'fuck you.'
Corinne for president! Everyone, say it with me!!!!
Well, I don't know about you, but I can't wait to find out who goes home next week. Are you team Taylor or Corinne?!
While you think about it, go like my tweet.
Citations: Corinne Goes Full Villain (TMZ)