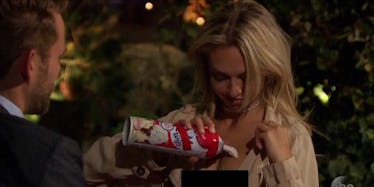 'Bachelor' Contestant Corrine's Mom On That Whipped Cream Scene: 'It Was Fake'
ABC
"Bachelor" contestant Corinne Olympios has caused quite a stir with Nick Viall and the other women in the house this season, but she's got nothing on her mom, Peri Olympios.
In a recent interview Mama Olympios did with TMZ, she shed some major light on her "villain" daughter, Corinne, and on reality TV in general.
You remember the infamous whipped cream scene from earlier this season on "The Bachelor," right?
Well, I hate to break it to you, but according to Corinne's mom, Peri, that was "fake" and "all for TV."
Speaking of the scene where her daughter wore a trench coat and enticed Nick Viall to lick whipped cream off her boobs, Peri Olympios said,
Yes, she took it to the limits. [But] most of it is fake. Even when she decided to, you know, lose the top, she had cover ups on. When she was in the trench coat, she had a bathing suit on.
Wow! I don't know how to feel about all of this. Part of the enjoyment of watching this season of "The Bachelor" is in believing Corinne is as batshit crazy as she appears on-screen.
Peri Olympios continued,
It was all for TV. Reality TV and TV is very fake, and you have no idea what they have cut out. If you pick a particular episode, I could give you the reality of it, just like with the whole trench coat and whipped cream thing. Do you really think a can of Reddi Wip was sitting there in the corner? By the pool? In the heat? Really?
Damn, Mrs. Olympios, why you gotta ruin Monday nights for us like that? Sure, no one thinks everything that happens on "The Bachelor" is real, but must you sit there and call out all the best parts of this season with Corinne as fake?
This is like someone telling a kid Santa, the Easter Bunny and Batman don't exist, all at once. Harsh.
On a somewhat serious note, Corinne's mom also talked about how quite a few, uh, fans have called her house since this season of "The Bachelor" began, and I just want to say that is very not OK.
You don't want Nanny Raquel on your butt, right?
Stop calling Corinne Olympios' house, y'all.
Citations: 'BACHELOR' STAR'S MOM CORINNE'S FAKING But I'm Really Calling Cops (TMZ)