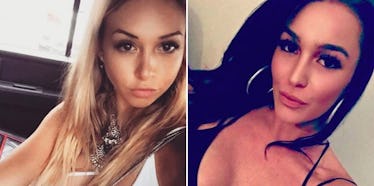 Here's How To Find The Remaining 'Bachelor' Contestants On Social Media
Instagram
Nick Viall is slowly getting closer to finding love on "The Bachelor" as he continues to eliminate contestants.
We've said goodbye to everyone from Dominique, the girl who wasn't getting enough attention, to Liz, the serial killer Nick met (and had sex with) at Jade and Tanner's wedding.
We'll miss you, Liz! Rest in peace.
As Nick's season plays on, we'll get even more familiar with all of the ladies... meaning Dolphin Girl and Corinne the villain will become your BFFs.
Yay! PS. IT'S A SHARK, NOT A DOLPHIN. ILY, ALEXIS, BUT GET IT RIGHT.
If you love "The Bachelor" as much as I do, then there's a good chance you've tried to stalk the contestants on social media to learn more about their private lives.
I'm not gonna lie to you, I search for Corinne's Instagram on the reg. She just added new pics of her wearing a ring on THAT finger, so yeah, she posts juicy stuff.
I also checked out Dolphin Girl's profile to see if she wears weird costumes in real life. The answer is yes, BTW. Yes, she does.
If you're curious what the other contestants are up to, or just want to follow them/stalk them on Insta, I've made your life a whole lot easier.
Below, you can check out the social media profiles of a handful of the contestants. You're welcome, everyone! No need to thank me.
Alexis Waters: @alexiswaters_
Corinne Olympios: @colympios
Vanessa Grimaldi: @vanessagrimaldi30
Astrid Loch: @astridloch
Rachel Lindsay: @therachlindsay
Kristina Schulman: @kristinaschulman
Raven Gates: @ravennicolegates
Danielle Maltby: @dmmaltby
Jaimi King: @msjaimiking
Danielle Lombard: @daniellellombard
Josephine Tutman: @josephinetutman
Jasmine Goode: @jasminegoode_
Sarah Vendal: @sarahvendal
Good luck this season, ladies. Y'all need it... especially you, Corinne.
I'm not sure how you're gonna survive without Raquel slicing up your cucumbers or making you cheese pasta. Life is hard, ya know?!