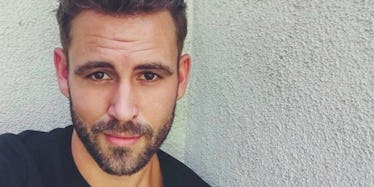 Nick Viall Had Sex With Contestant Before 'Bachelor,' Never Called Her Back
Oh boy, here's hoping "The Bachelor" star Nick Viall finds love this season with a beautiful stranger and not a woman he's already met or, as he reportedly says, "a waste of a person."
He deserves to meet the one!
Unfortunately for Nicky, one of season 21's contestants is a woman he already knows, in the Biblical sense.
Long before the season was shot, Nick hooked up with one of the women vying for his heart this season, though the pair have not acknowledged their prior connection on camera, Us Weekly reports.
A source told the site,
During the first day of taping, all of the girls came out, and he actually had slept with one of them at a wedding and never called her again.
This is bad news for Viall who, according to another source, told producers he "didn't want any girls on the show that he already knew or had a date with" because "it was a waste of a person being there."
Ah, reality television. Finally, a place where women can go to be called "a waste of a person" for having had sex with someone one time on a whim.
Perhaps Nick will get over his hangups re: women he's already met, and make a solid effort to get to know each of the women on his season, regardless of whether he's already slept with any of them.
Otherwise, the 36-year-old will have spent four seasons — between "The Bachelorette" seasons 10 and 11, "Bachelor in Paradise" season three and the current season of "The Bachelor" — looking for lasting love and coming up short.
Some season 21 contestants, presumably those blessed enough to have not briefly sexed Nick leading up to the show (during or after the show, though: totally acceptable), were treated to a group date at a Backstreet Boys concert in LA.
Backstreet Boy AJ McLean told Us Weekly,
Nick is a great guy… I felt really bad for the girls because we only gave them 30 minutes to learn that whole dance routine, and the fear of God came over all of those girls' faces. They were such, such, such troupers. I wish them all the best of luck, and I do hope Nick does finally find that special someone.
Same, AJ. Same. The journey begins, or continues, or whatever, January 2017.
Citations: Nick Viall Hooked Up With One of His 'Bachelor' Contestants Before the Show (Us Weekly)