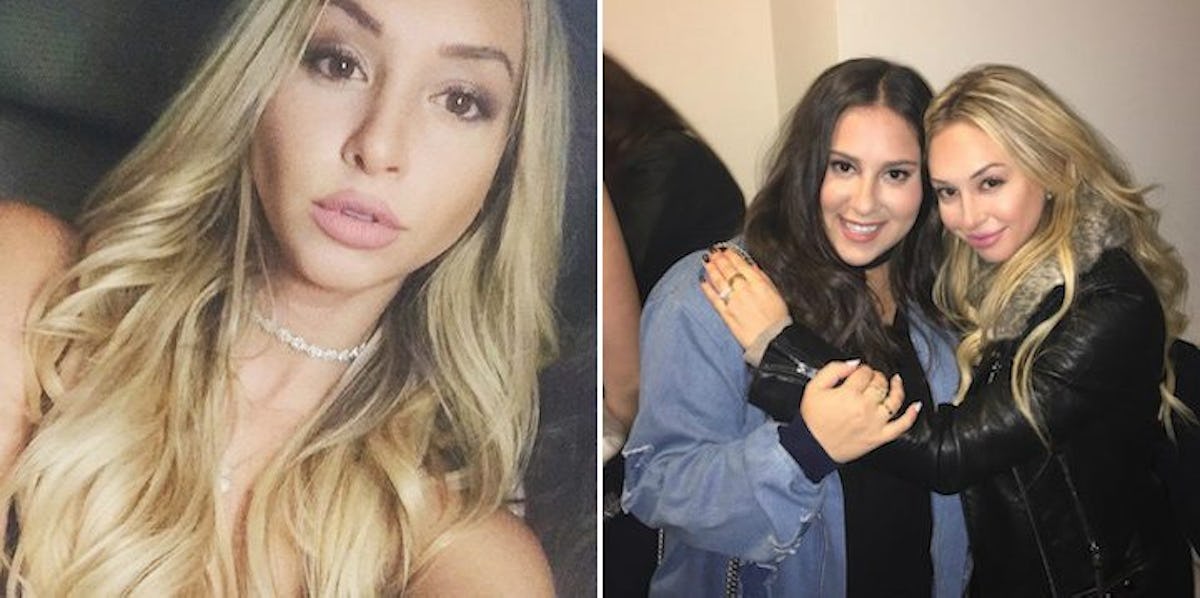 Did Corinne Win 'The Bachelor'? Her New Ring May Give Us The Answer
Instagram
HOLD UP. WOAH.
UHHH, IS CORINNE FROM THIS SEASON OF  "THE BACHELOR" ENGAGED?!
Yes, you read that right. The 24-year-old "villain" added new photos of her wearing a ring on THAT finger.
Nick Viall's season is currently done filming, so whichever lady "won" his season probably has an engagement ring on her finger at this moment.
Now, I'm not here to suggest Corinne won. I have no idea who Nick chose in the end or if he even proposed to anybody.
All I know is Corinne Olympios is wearing a sparkling, silver ring on her ring finger...and she ain't trying to hide it.
The photo above was posted to the Instagram of Girl With No Job.
The two ladies smiled for the camera and Corinne made sure the bling on her left hand was nice and visible.
Obviously, fans noticed the ring and went nuts on social media. People flooded the Instagram with all sorts of crazy comments.
Hmmmmm, could Corinne actually be engaged to Nick? Does this mean there's a CHANCE he picks her in the end?!
Let's not freak out just yet!
Corinne also added a picture on Instagram of her holding a drink.
If you look closely at her left hand, you can see she's wearing rings on a bunch of her fingers.
Maybe Corinne just likes wearing jewelry, OK?
OR, maybe she's wearing a ring on THAT finger just to confuse us all. This wouldn't be the first time she had something tricky up her sleeve.
Last episode, Corinne came up with an entire plan to get Nick's attention over the other women.
She stripped down to nothing but a trench coat and put whipped cream all over her tits.
Her idea totally backfired and Corinne ended up crying in the bathroom, but it was definitely a well-thought-out plan.
Oh, Corinne. Can't wait to see what drama you stir up next episode!
Citations: Corinne From "The Bachelor" Is Wearing Ring On That Finger (ET Online)