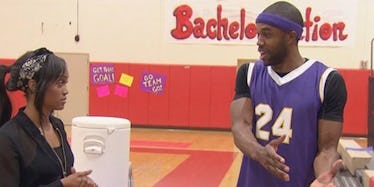 When Do 'Bachelor' Producers Step In? Here's How Involved They Get In Filming
ABC
It's a not-so-well-kept secret that there's a silent but powerful third party involved in the love stories we see on The Bachelor. The show's producers are a huge part of turning these men and women into television gold, but do they ever find themselves crossing the line?
It's a particularly timely question considering the recent scandal in Bachelor in Paradise. The spinoff series just indefinitely suspended production following reports of "misconduct."
Allegedly, contestants DeMario and Corinne engaged in raunchy acts that made a producer of the show uncomfortable. The producer is now reportedly suing the series for "misconduct," Entertainment Tonight reports. A new report from People also alleges that the incident may have occurred without the consent from one of the contestants.
Update: On June 14, DeMario Jackson gave E! Online the following statement about the Bachelor in Paradise suspension and claims about his involvement: 
It's unfortunate that my character and family name has been assassinated this past week with false claims and malicious allegations. I will be taking swift and appropriate legal action until my name is cleared and, per the advice of legal counsel, will be seeking all available remedies entitled to me under the laws.
Corinne also released a statement to TMZ on Wednesday. She said: 
I am a victim and have spent the last week trying to make sense of what happened on June 4. Although I have little memory of that night, something bad obviously took place, which I understand is why production on the show has now been suspended and a producer on the show has filed a complaint against the production. As a woman, this is my worst nightmare and it has now become my reality. As I pursue the details and facts surrounding that night and the immediate days after, I have retained a group of professionals to ensure that what happened on June 4 comes to light and I can continue my life, including hiring an attorney to obtain justice and seeking therapy to begin dealing with the physical and emotional trauma stemming from that evening.
Earlier: A source reported by Entertainment Tonight also claims that prior to the incident, producers were working to get the two contestants to hook up, a common task among Paradise producers, as the series is largely reliant on alcohol and hook-ups.
Elite Daily reached out to Warner Brothers and ABC in regard to the incident and allegations. Warner Brothers told Elite Daily:
We have become aware of allegations of misconduct on the set of Bachelor in Paradise in Mexico. We have suspended production and we are conducting a thorough investigation of these allegations. Once the investigation is complete, we will take appropriate responsive action.
Elite Daily also reached out to DeMario's and Corinne's teams for comment, but did not hear back by the time of publication.
Bachelor producers can get pretty involved in shaping the storylines of the shows, and it's not widely known what it takes for them to put down the cameras and stop the actions they've put into motion.
It no secret TV producers are experts at manipulating the contestants into creating delicious, drama-filled television. In fact, there's an entire series devoted to putting the behind-the-scenes antic of the show on display (Lifetime's UnREAL).
Contestants and crew from The Bachelor have revealed incidents that producers have gotten involved with in the past. According to the Daily Beast, contestant Leslie Hughes said producers are known to push alcohol onto contestants. She said:
When I came in for the producers' weekend, I remember it was like 12 noon, and they were like, 'You want some champagne, wine?' And I was like, 'It's 12 p.m., noon!' And they're like, 'Welcome to the Bachelor family.'
The List also reports Bachelor producers deprive contestants of sleep and food to really let emotions take effect. Bachelor Producer Sarah Gertrude told The New Yorker:
They'd often tell us to drive up and down the 405 until the girls cried — and not to come home if we didn't get tears, because we'd be fired.
And those rose ceremonies reportedly last several hours and may not end until the next morning, which works to make contestants even more irritable.
Most unsettling of all, some past contestants have revealed that producers will insult or yell at them in order to get tears or anger for the camera. Former contestant Megan Parris told Trib Live:
It is scripted ... They basically will call you names, berate you, curse at you until they get you to say what they want you to say.
Elite Daily reached out to ABC and Warner Bros. for comment on the allegations made by former contestants and producers, but did not hear back by the time of publication.
There's no word yet on when, or if, Bachelor in Paradise will resume filming.