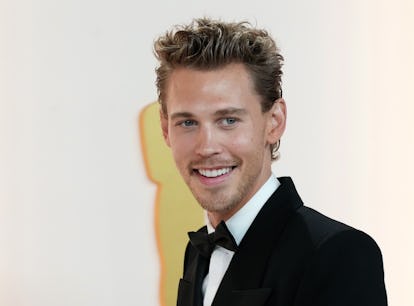 Austin Butler, King Of Transformation, Is Completely Bald For Dune 2
The Elvis accent is nothing compared to this, TBH.
Jeff Kravitz/FilmMagic, Inc/Getty Images
You may have a hard time recognizing Austin Butler when you go see Dune: Part Two. Fresh off rocking the internet with his completely changed Elvis voice, the actor is pulling off another total transformation. Austin Butler is going fully bald for Dune: Part Two, and apparently, it's a monstrous new look for him.
The big reveal of Butler's latest metamorphosis came when a first look at Dune: Part 2 was unveiled at CinemaCon on April 25. Various attendees confirmed Butler's character, Feyd-Rautha Harkonnen, is bald in the movie, requiring Butler to hide his signature wavy locks. People who saw the trailer described Butler's look as "extremely menacing and almost monstrous" with "bright white skin." The creep factor isn't a total surprise, given that Feyd-Rautha is a major villain in the Dune-iverse, but the physical desription of Butler's version is totally different from how the character has been portrayed in the past. The source novels describe the character as having dark hair; Sting's portrayal in the 1984 movie had fiery red hair; and Matt Kessler's version in the 2000 miniseries had a brunette crew cut.
Once Butler's daring hair change was revealed, social media leapt at it.
A fan-made character poster of Butler without hair went viral after the announcement, but so far, no official first look at Butler's character has been released.
The drastic appearance change comes not long after Butler's persistent deep, Southern drawl continued long after he finished filming Elvis. During the 2023 awards season, fans became transfixed by his changed voice, with his voice coach for the movie even saying he may sound this way forever due to his intense dedication to picking up the accent. Butler himself contended he couldn't hear a change in his voice, but did admit he'd begun turning to his Elvis-isms in moments when he's feeling socially anxious, like red carpets and award shows.
So, now that we know what Feyd-Rautha will look like, the real question is what he's going to sound like. I, for one, cannot stop imagining Voldemort with Elvis' voice.
Dune: Part Two will storm into theaters on Nov. 3.