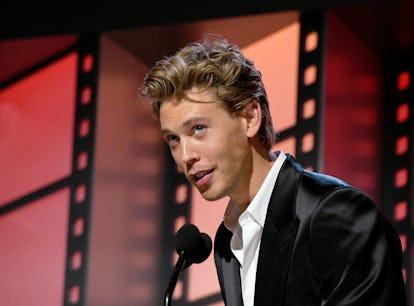 Austin Butler Is Done Talking Like Elvis After He "Probably Damaged" His Vocal Cords
"I am getting rid of the accent."
Michael Kovac/Getty Images Entertainment/Getty Images
Austin Butler is ready to leave Elvis behind. After putting on a husky accent to play the king of rock 'n' roll in the 2022 biopic Elvis, fans of the actor have been convinced he's continued speaking in the Southern accent in real life. Butler acknowledged how the very involved process of filming the movie may have altered his speaking voice, and shared that he's not clinging to any Elvis Presley accent consciously.
Butler opened up about all the chatter around his voice during his Feb. 3 appearance on The Graham Norton Show. "I am getting rid of the accent," he said, per Rolling Stone. "But I have probably damaged my vocal cords with all that singing. One song took 40 takes."
Since filming Elvis, Butler's voice has become a fascination among fans. His Golden Globes acceptance speech at the start of 2023 particularly caught people's attention, but Butler laughed off comments about his voice when asked by the press afterward: "I don't think I sound like him still, but I guess I must, because I hear it a lot." He also used his SNL monologue on Dec. 17 to poke fun at fans claiming his voice had changed.
While on The Graham Norton Show, Butler shared that all the talk about his voice changing made him second-guess himself for a bit. "It really made me self-conscious for a second because I thought, 'Am I being phony? Is this not my voice?'" Butler said. "And then I thought, 'No.' I'd have to think consciously to not talk how I am right now."
The actor went on to describe the various ways his voice is different than how it was three years ago, deducing that a combination of age and rigorous vocal demands probably just naturally made his voice a bit raspier. "For one thing I'm older now," Butler said. "Maybe sometimes I have a Southern twang, but I don't think this is Southern. If I try to sound like Elvis I would sound very different right now. But the other thing is, from the singing, I think I probably have destroyed my voice a bit, my vocal cords. It's a lot raspier now."
Butler's new Dune: Part Two co-star Dave Bautista has also commented that he no longer sounds like Presley. "It's not Elvis. His voice is different, his look is different," Bautista told USA Today on Feb. 2.
Previously, Butler had shared how intense the production process for Elvis was, detailing how he would remain in Presley's mindset for incredibly long periods of time. "I didn't see my family for about three years," Butler told Variety of the filming process. "I had months where I wouldn't talk to anybody. And when I did, the only thing I was ever thinking about was Elvis. I was speaking in his voice the whole time."
After all that time, it's no wonder Butler's manner of speaking changed a bit, but now it sounds like he's finding his own voice again.