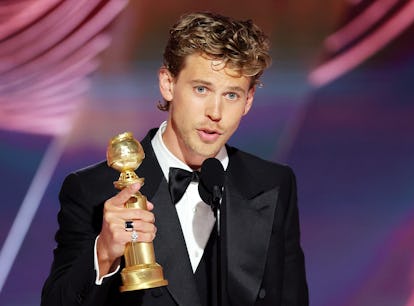 We Need To Talk About Austin Butler's Elvis Voice
His Golden Globes speech left everyone confused.
Rich Polk/NBC/NBCUniversal/Getty Images
It's not surprising to see actors become consumed in the characters they're playing. Sometimes, their dedication to nailing these provocative roles are intense, and it can have a lasting impact on their psyche after filming. This seems to be the case for Austin Butler, who has been stuck doing his Elvis Presley voice for more than a year. Yes, for that long. While appearing at the 2023 Golden Globes, his new husky accent was on display, and fans seem to have questions.
On Jan. 10, the actor won Best Actor in a Motion Picture for his starring role in Baz Luhrmann's musical biopic, Elvis. The win wasn't too surprising, being that it catapulted Butler into heartthrob territory overnight. However, as Butler began his acceptance speech, it was clear the King of Rock 'n' Roll was somewhat still in the building.
"My boy, my boy. Oh man, all my words are leaving me," he began his heartfelt speech, his voice mirroring that of the Southern drawl he had during the biopic. No, seriously. It sounded like listeners were watching an extended version of the film.
Still, even amid the actor's golden win, viewers seemed distracted by his deep tone. After the ceremony, Butler addressed the voice controversy, which has seemingly been unfurling since Elvis debuted in June 2022. When asked by a reporter if the accent is now his current day-to-day voice, Butler slightly laughed it off.
"I don't even think about it. I don't think I sound like him still, but I guess I must because I hear it a lot," he responded, going on to state there's still pieces of Elvis' DNA coursing through him.
In May 2022, shortly before the film released, Butler told GQ he emulated the singer for the better part of three years. "I had months where I wouldn't talk to anybody. When I did, the only thing I was ever thinking about was Elvis," he said, later noting his family members noticed a difference in his vocal tone."My family said I didn't sound like me anymore."
Butler also poked fun at the voice theory during his Saturday Night Live monologue last year. On Dec. 17, the actor hosted the late-night special and tried to set the record straight.
"There's people out there who say that ever since I played Elvis, my voice has changed," Butler said. "That it got deeper, more Elvis-y. But that's not true. I've always sounded like this, and I can prove it."
He then showed a 2012 AfterBuzz TV interview, where he promoted his then role as Sebastian Kydd on The Carrie Diaries. However, according to Bustle, the vintage clip seems to have been altered to raise the pitch of Butler's voice. Yeah, that's definitely not helping him beat the Elvis drama.
Clearly, Butler was committed to embodying the King of Rock 'n' Roll. Maybe a little too committed.