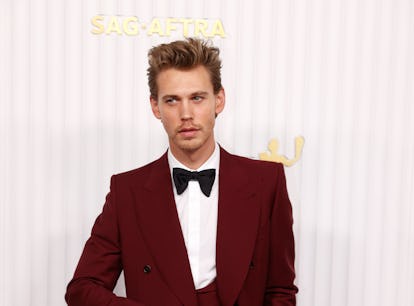 These Austin Butler Videos Show How His Voice Changed Through The Years
Elvis was such a vibe shift for him.
Myung J. Chun/Los Angeles Times/Getty Images
Austin Butler showed off his impressive voice in Elvis... and then he never stopped. The actor's noticeably deeper, huskier speaking voice has become the talk of awards season, ever since fans pointed out that it sounded like he was still doing his Elvis Presley impression while winning his 2023 Golden Globe. Though Butler has said he's not putting on an accent, it's pretty clear that he doesn't sound the same as he did before Elvis. To get the full picture of how Butler's voice has changed, these videos of him throughout the years present an essential timeline.
Butler is well-aware of the recent fascination with his voice. Although he's maintained that the change has occurred naturally and not put-on, Butler did admit he tends to lean on the Presley characteristics he used in Elvis when he feels anxious in a large social setting. His voice coach for the movie implied that the long hours Butler put into perfecting the accent could have changed the way he naturally talks in everyday life. Whatever the case, one thing is indisputable: Austin Butler's voice has changed.
The proof is all over YouTube, TikTok, and pretty much every streaming service. Since Butler has been acting since he was a teenager, it's not difficult to find tons of videos of him speaking over the course of the past two decades. Here's a sampling that show exactly how his voice has changed from the start of his career into his Elvis era.
1. The Nickelodeon Years (2007)
Even as a kid, Butler has had a relatively deep voice, and he's also always been able to sing. In the mid-2000s, he appeared on several hit Nickelodeon shows, including Ned's Declassified School Survival Guide, Zoey 101, and iCarly. He even sang a bit on iCarly; though his singing was purposely terrible at first, his real voice shone through with some help from Freddie.
2. Disney Heartthrob (2010)
Butler's voice was noticeably a bit higher-pitched as he grew into Disney Channel's go-to guest star. He used his more approachable, enthusiastic tone to charm Alex Russo when he appeared on Wizards of Waverly Place.
3. East High Adjacent (2011)
Butler's leading-man moment arrived in 2011's High School Musical spinoff Sharpay's Fabulous Adventure. This was also be the year Butler began dating HSM star Vanessa Hudgens, so he's basically an honorary Wildcat at this point. And like a true East High grad, he had the perfect voice for Disney: chipper, emotive, and even a bit melodic.
4. Sex And The City Bad Boy (2013)
Once he was done with Disney, Butler changed up his voice to become The CW's brooding bad boy in the Sex and the City prequel, The Carrie Diaries. As Sebastian Kydd, Butler used a deeper voice to seduce Carrie Bradshaw, and his natural speaking voice at the time was also a bit lower. In interviews from the early-to-mid 2010s, you can also hear the slightest bit of a twang beginning to develop in Butler's voice.
5. Fantasy Hero (2015)
It was around the time that Butler was cast in the high-fantasy series The Shannara Chronicles that you could really start to hear the roots of his current speaking voice. In interviews leading up to the show's 2016 premiere, Butler spoke with a much more noticeable twang. It isn't quite to the level of his post-Elvis deep drawl, but it's enough to posit that maybe his voice was a natural one that happened gradually over the years.
6. Elvis Origins (2019)
Butler's casting as Elvis Presley was announced in July 2019, but he wasted absolutely no time getting into the character. Even before production began, Butler was already speaking in a much different voice during interviews. Because of pandemic delays, Elvis wouldn't even be released until three years later, meaning Butler spent a lot of time talking like Elvis considering he was already doing it right when he was cast in 2019.
7. Thank You, Thank You Very Much (2023)
And that leads us to Butler's current speaking voice, which yes, sounds like a continuation of his Elvis accent. But looking back, Butler has always been something of a vocal chameleon. Maybe we will just have to wait until his next big role to see what he sounds like next.