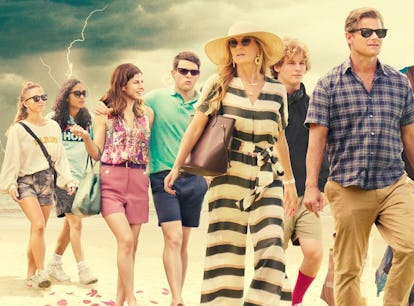 Fans Think 2 White Lotus Characters Are Secretly Sisters
This reveal in Season 3 would be a gag.
HBO
Warning: Spoilers for The White Lotus Seasons 1 and 2 follow. The White Lotus Seasons 1 and 2 were connected via the character with the most extensive story arc: Tanya McQuoid, who went from undateable to married by Season 2. Of course, that didn't turn out so great for her, so now with Season 3 on its way and Jennifer Coolidge confirming she won't be back, fans are trying to figure out which character (or characters) will connect the new story back to the previous ones. One possible theory? Nicole from Season 1 and Abby from Season 2 are sisters, and they'll unite in The White Lotus Season 3.
Since the season's Dec. 11 finale, theories and speculation about who will return have ranged from evil villain Greg, now flush with Tanya's money, getting the comeuppance he deserves to new fan-favorite Daphne heading to the Maldives with her husband, Cameron. But a less obvious theory has arisen, one based on a Season 2 character who was only heard but not seen: Abby, Dom's estranged wife. Abby was only heard over the phone when Dom called her from the hotel, when she told him to go take his perpetually cheating self out with the trash. However, by the end of the season, Dom realized his son, Albie, was right about his behavior, and he committed to turning over a new leaf by bribing Albie to help him get back into Abby's good graces.
Fans suspect Abby could become a more important role in the future largely because of the actor who provided her voice: Laura Dern, an HBO fan-favorite and someone fans would dearly love to play a leading role in the show. And they have a clever idea for how she could be woven in to tie Seasons 1, 2, and 3 all together in a neat designer bow: She could be the sister of Season 1 character Nicole Mossbacher (Connie Britton).
I mean, the theory could work. Nicole and Abby are both part of wealthy, powerful families, and these types of families tend to stick together. And the usefulness of women taking their husbands' names means that a drama can slyly introduce adult sisters without any direct connecting evidence.
And it seems the cast would be on board. Britton loved the idea when it was presented to her in an interview with Variety and said she would return if asked. "Mike is someone I'd admired for a long time in my career," Britton said. "I think he's a genius, but also a kind genius. I have loved collaborating with him, and I'll say yes to him 'til the end of time."
The White Lotus Seasons 1 and 2 are streaming on HBO Max. Season 3 is expected in 2023.