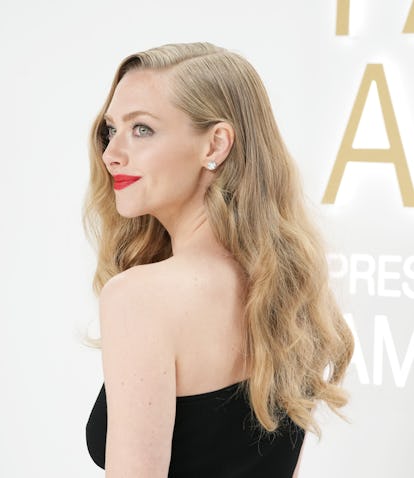 Amanda Seyfried's Secret Musical Has Twitter In A Meltdown
Please tell me it's Mamma Mia 3.
Kevin Mazur/WireImage/Getty Images
One of the biggest surprises at the 2023 Golden Globe awards wasn't who showed up, but why someone in particular did not: Amanda Seyfried won the Golden Globe for her portrayal of Elizabeth Holmes in the Hulu biographical drama The Dropout, but she was not there to accept the award in person. Instead, the presenters, Yellowstone stars Cole Hauser and Mo Brings Plenty, announced: "Amanda Seyfried is deep in the process of creating a new musical and could not be here." (Um, what?) Naturally, Twitter exploded with theories about what musical Seyfried could be working on. And while the possibilities seem limitless, there's one musical fans are banking on it being (despite what anyone says).
The most popular theory by far is that Seyfried is working on Mamma Mia 3, the long-rumored third installment of the ABBA-inspired movie musicals. There has been a lot of buzz around a potential third movie recently, although it's still not confirmed, so most viewers took Seyfried's reason for skipping the Globes as yet another hint toward a return to Sophie and her adventures in the Greek islands. I mean, what other musical would require a "deep" "process" other than a sun-soaked jukebox flick, right?
Another popular fan theory that arose was that Seyfried could be working on the Mean Girls musical movie predicted to premiere on Paramount+ this year. Although Seyfried recently didn't sound interested in the film while speaking with Lindsay Lohan about it, fans are still holding out hope she could make an appearance.
But sadly, neither of those seem to be the likely case. Seyfried took to her Instagram story after winning her Golden Globe to offer a bit more insight into this mysterious musical: "I am working on something that is magic. And it is musical. So I'm finally getting to do something that I've never really done, and that's all I can say about it."
That comment about the musical being something she's "never really done" pretty much dashes fans' hopes for a Mamma Mia 3 or Mean Girls musical, but at least the announcement inspired some great joke ideas.
Although the Mamma Mia and Mean Girls ideas may be out, the prospect of a totally fresh musical moment for Seyfried is still exciting. The actor definitely seems to be in her musical era at the moment, recently revealing she was nearly cast as Glinda in the upcoming Wicked movie, the role that ultimately went to Ariana Grande.
Seyfried has shown off her singing voice many times before, in both Mamma Mia movies as well as 2012's Les Misérables, along with recording songs for 2010's Dear John and 2011's Little Red Riding Hood. Now it sounds like fans will get to hear her like never before.