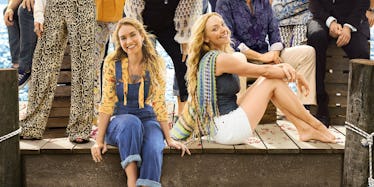 'Mamma Mia 2' Ratings Are In & My, My How Can You Resist This?
Universal Pictures
Mamma Mia: Here We Go Again, the most sensibly titled sequel of 2018, opens in theaters across the country this weekend, ten years to the day since the original movie version of the Broadway "jukebox musical" arrived in theaters. The first film has a significant cult following, with fans who have been hoping the production could get a sequel off the ground for years, so chances are the movie will do well, even if the reviews weren't great. But the Mamma Mia 2 ratings are in, and all is well on the Greek Island of Kalokairi.
The original Broadway show was a fun ABBA-filled kitsch-fest that did well as a live theater production. But the movie, starring Meryl Streep, Pierce Brosnan, Amanda Seyfried, and Colin Firth, floundered. Brosnan couldn't sing, first of all. Firth and Seyfried and the other cast members seemed to consider their song parts to be karaoke numbers worthy of precisely that much preparation. And Streep, rather than sing, wandered around declaiming lyrics, Shakespearean style. It was a choice. Reviewers agreed, and not a good one. The Tomatometer ranked it at a 54% splat.
But the new film has charmed a new generation of reviewers, many of whom know perfectly well the first film was terrible, but don't really care. With the majority of reviewers weighing in, the new movie is ranked fresh, with an 87% score.
Den of Geek is quite pleased:
An exuberant dance party [with] more denim, better singing, and, of course, 100 percent more Cher.
Vanity Fair insists you will love this film whether you want to or not:
It's all that good, playful, drink-sloshing Mamma Mia! stuff, just with an added layer of disarming melancholy. Hopefully audiences will take its spirited message to heart. The sun-dappled dance ends for us all eventually, so why not throw our arms up while we can and—unafraid of how silly we'll look (and we will)—cut a rug with the ones we love?
As for how the film will do at the box office this weekend, there's not much competition. Most major films are sitting out this weekend, in anticipation of San Diego Comic Con taking up all the entertainment new oxygen. BoxOfficePro's long-range estimates suggest this will help the film's chances exceed a $30 million opening.
The film's producers are currently estimating somewhere in the $27 million to $33 million range for the weekend, but Variety points out that a decade ago no one predicted that the first film would be such a smash hit either.
The original 2008 movie was a surprise blockbuster, grossing more than $600 million worldwide. "Mamma Mia!" opened with $27.8 million on July 18-20, 2008, against $158.4 million from "The Dark Knight," and ended up with $144 million domestically.
Could Mamma Mia 2 do a second slow burn on the box office the way the original did? Odds look good, as there's no direct competition coming next weekend either. The male action-film oriented Mission: Impossible — Fallout is the only notable opening.
Mamma Mia: Here We Go Again opens in theaters this coming Friday, July 20, 2018.