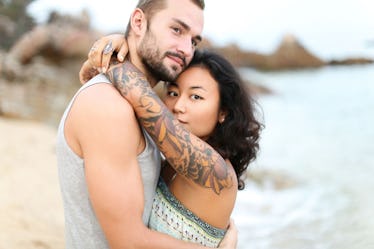 Here's What Happens When You Love Someone More Than They Love You
You deserve someone who can give you exactly the type of love you need.
One thing that I've learned over the years, through lots of relationships both good and bad, is that one of the most important factors in relationship success (or failure) is balance — balance of commitment, balance of desire, balance of love. Relationships take work, so you both have to be equally invested if you're going to be happy and if you're going to go the distance. So when you love someone more than they love you, it's time to ask yourself if that's really the kind of relationship that you want. Is this person really the right fit? Do I deserve more?
If this sounds familiar, know that I've been in your shoes, and it sucks. Maybe you're telling yourself that you love them enough for the both of you, or that they love you too but just need to catch up. When it comes to matters of the heart, anything is possible. But is it likely? To answer that and more, I reached out to the experts to get their take on loving someone more than they love you. I asked if this kind of relationship is even healthy, and if it's one worth fighting for. Here is what they had to say.
Remember: You deserve to be loved just as powerfully and passionately as you love.
Experts:
Alexis Nicole White, relationship expert and author
Dr. Lesliebeth Wish, licensed clinical psychotherapist and founder of LoveVictory.com
This article was originally published on