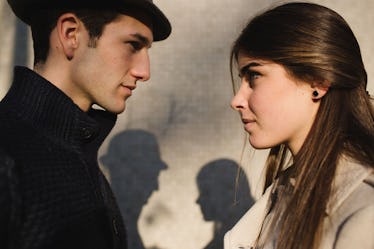 5 Signs You & Your Partner Should Sign Up For Couples' Therapy, According To Experts
Inevitably, all relationships have their ups and downs — and most of the lows are things that that the two of you can work through, so long as you are a united front, and if you are both willing to put in the effort to make the relationship work. Even the happiest and most loving couples have moments of tension and friction that, if left unresolved, can quickly grow into more serious issues and turn into toxic patterns that will doom the romance. Fortunately, before that happens, you might be able to spot the signs you need couples therapy so that you can fix the situation.
The question is: How do you know it's time to stop trying to work through all your problems on your own and set up an appointment with a therapist? There is no "wrong" time to do so, because there is nothing wrong with getting a professional helping hand, particularly when the future of your relationship is at stake. It's all about what feels right for you.
However, there are some situations where introducing a neutral party can be make or break for a couple, and so it's important to recognize if your relationship is headed down a bad path, before it's too late and you're past the point of no return. To help spot those signs, I reached out to the experts. Here is what they say are clear signs you need put a couples therapist on speed dial.