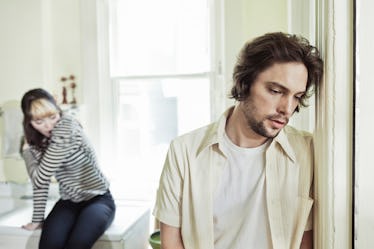 5 Signs Your Relationship Is Headed For Trouble, According To A Couples' Therapist
Imagine having access to a PDF version of the roadmap to relationship success. I don't mean figuratively. I mean like an actual map with must-see destinations highlighted in bold and warning signs about detours and hazardous conditions up ahead. What would the warning signs say? Well, essentially they would be signs your relationship needs work like, "Danger! Major partner mood swing at the next intersection," or, "Warning! Incoming ex. Proceed with caution." It would make dating so much easier.
Sadly, no such thing exists. And if it does, I haven't been able to find it in the App Store. Luckily, when in doubt, you can turn to experts like Dr. Fran Walfish, Beverly Hills family and relationship psychotherapist and co-star on Sex Box.
Dr. Walfish defines relationship warning signs as anything in a relationship that presents a high risk for serious problems in the near future, including the possible demise of the relationship. The most common and dangerous ones, she says, all have to do with communication.
"Healthy relationships require two willing participants who have the courage to face their own shortcomings and to be held accountable," she explains. Most other relationship problems, like a lack of intimacy, actually stem from this. She reveals, "Once communication goes, so does sex! People think the decrease in frequency and disappearance of sex and love-making is the problem but it's not. Talking is the glue that holds relationships and people together."
Although communication is often at the center of your relationship problems, they won't all look the same. These five red flags all indicate that your relationship might be in trouble.