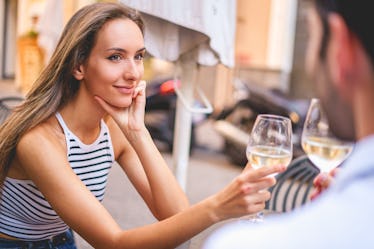 4 Signs Of Avoidant Attachment You Can Spot On A First Date
Giuseppe Lombardo / EyeEm/EyeEm/Getty Images
There's a lot to learn about someone when you meet them for a first date. You're trying to make a good impression, but you're also looking for context clues about who this person really is. What would they actually be like as a partner? It's important to keep an eye out for red flags, including signs of avoidant attachment. You're better off spotting these early on before you become super invested in the relationship.
"Avoidant attachment" is a term in psychology used to describe the behavior of people who are emotionally unavailable. This pattern can begin in childhood, and it goes on to affect people's relationships throughout their lives. A person with avoidant attachment might act aloof or cryptic toward their partner, showing resistance to being vulnerable or developing close bonds. "Avoidant attachment basically means an individual believes or operates as though they cannot rely on others," says Nicole Richardson, licensed marriage and family therapist. "They often come off as loners. They can be outgoing and dynamic, but they really want to do their own thing."
As you can probably imagine, people with avoidant attachment can be pretty difficult to be in a relationship with. "If you are in a relationship with an avoidant, you can expect that they want to draw inward when they are having a difficult time, and they may not come to you when they are struggling," Richardson explains. "It may also mean they are not interested or equipped to meet many of your emotional needs. They often like companionship but struggle with closeness and intimacy."
You can sometimes spot early warning signs of avoidant attachment on a first date. Here's what Richardson says to look out for.