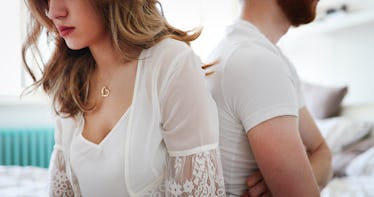 20 Heartbreaking & True Stories About Women Settling In Relationships
Shutterstock
OK, let's get real. "Am I settling?" isn't always a question that most people want to utter out loud, but I bet it's one that's crossed more than a few minds every now and then. If you're wondering something similar in your current relationship, you've come to the right place. I come bearing some honest AF words of wisdom from women who've been there.
In a recent Reddit AskWomen thread, women were asked to share when they realized they were settling in their relationships. And the women who responded did not hold back. Each one got brutally honest about the aspects of their relationship that made them realize that they were settling, from keeping too many secrets from their friends to doing all of the emotional heavy lifting.
You may find yourself saying, "It me!" to every single one of their responses, or you might find yourself not relating to any at all. But what's interesting here is that, while some of the women's stories are similar, they're pretty much all unique in their own way. Settling for you might mean something totally different than settling for someone else. Read along and, if nothing else, take their stories as a sign that you're not alone.