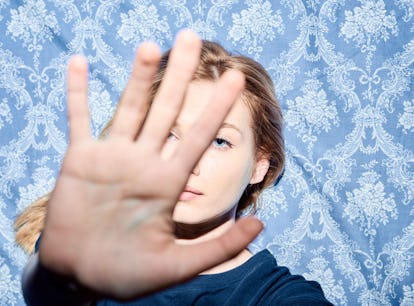 Here's What To Do If Your Partner Doesn't Want Sex Anymore
According to the sexperts.
It's no secret that after the honeymoon phase of a relationship slows down, the sex also slows down. What's less expected is for the sex to stop entirely. When that happens, it can be really confusing or scary because you may not know why your partner seems uninterested in sex, or worse, what it means for the future of the relationship. Is it a temporary blip? Or is this the new sexual status quo? If you're wondering what to do when your partner doesn't want to be intimate anymore, you're not alone. This is a tough one, so to acquire some much-needed insight on what to do in this situation, I reached out to the experts.
First thing's first: Is a lack of sex in a relationship normal? According to Dr. Jess O'Reilly, host of the @SexWithDrJess podcast, there is no need to immediately panic. "Levels of sexual desire fluctuate over the course of a lifetime and ebbs and flows are perfectly normal," she tells Elite Daily. "A decline in desire is not necessarily an indication of a problem and there is no ideal baseline for levels of desire." Rather than framing it in your mind as, "My boyfriend doesn't seem interested in me sexually anymore," try to be open-minded and curious about the root cause.
So if it's not always a lack of desire, what is the issue? According to clinical psychologist Dr. Carly Marie Manly, the answer is complicated. "A partner may stop wanting to have sex for a variety of reasons," she tells Elite Daily. "Sometimes it's one key issue at work, whereas in other situations a combination of factors contribute to the lack of interest in having sex. Some of the most common underlying issues include work stress, life stressors, physical exhaustion, mental fatigue, emotional exhaustion, physical health issues, unresolved relationship concerns, and emotional or physical infidelity," she concludes. So yeah, complicated.
While Dr. O'Reilly and Dr. Manly say the cause of a partner's lack of sex drive can vary, they both agree that there are some ways to deal with the situation to resolve (or at least understand) it better. Communication is key — once you're on the same page about your different sexual needs, you can better understand how to make each other happy. So, if your partner has stopped wanting to have sex, here's what the experts say to do about it.
Experts:
Dr. Jess O'Reilly, host of the @SexWithDrJess podcast
Dr. Carly Marie Manly, clinical psychologist
This article was originally published on