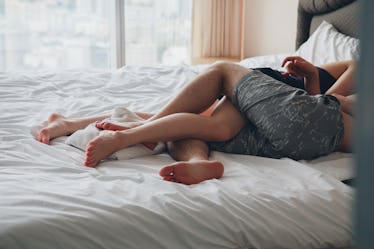 These Are The 3 Surprising Ways Experts Say Dating Someone Can Change Your Sex Drive
One of the most exciting — but also nerve-wracking — parts of dating someone new is finding out what your sexual chemistry is like. Are you going to be compatible? What will they bring out in you? Will you find a new sexual side you never even realized you had in you, or will sex with this new person perhaps bring up something painful from the past? The truth is, you won't really know which of the many ways dating someone can change your sex drive will impact you until you open yourself up and start heading in that direction.
While our sexualities and sex drives are complicated and maybe even a bit unpredictable, there are a few typical ways that people respond to dating someone new. To help break down these different responses, I reached out to experts who shared their insights into what sort of effect you can expect dating might have on your levels of desire, and to reassure you that whatever you're feeling is totally legitimate, and you should honor those feelings. That's because not only are these feelings telling you something about yourself, but, in some cases, they are offering insights into the person you're dating, and whether or not they're right for you. Here is what the experts say are the common ways dating someone will impact your sex drive.