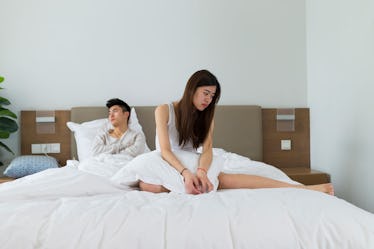 Here's How To Talk To Your Partner If You're Not Having Sex, But You Want To Be
Sex might not be everything in a relationship — but for some, it can be an important part. So what happens when you're in a relationship but not having sex because your partner stops wanting it? While that can be really hard, it actually happens more than you might think. That's why Candice Smith, co-founder of Two to Tango and couples' intimacy coach specializing in sexlessness, stresses first and foremost that if this is happening to you, you are not alone. "Over the past couple of years, several studies estimate that as many as 15% of couples are suffering from a sexless relationship," Smith tells Elite Daily. But she adds some good news: "It is possible to reverse those patterns with intentional communication and action."
The key to breaking out of these patterns in "sexual avoidance," says Smith, is communication — even when it can feel really fraught and awkward to do so. "If you are caught in this pattern, I don't blame you for feeling stressed about the conversation," she says, but adds that the sooner you address it, the better. "The more anxiety mounts, the less likely it is for partners to talk openly about it." Here's how she suggests you best approach the issue, so that you and your partner can feel good about your sex life and no one feels pressured into doing anything that they're not totally comfortable doing — because that last part is crucial.