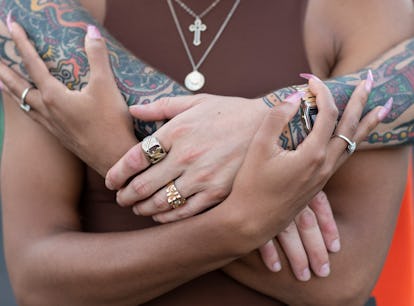 5 Ways Therapy Can Help Your Love Life, According To Experts
The benefits are endless.
If your love life isn't what you'd like it to be, the answer to your problems might not be signing up for another dating app. Instead, try searching a little closer to home with the help of a trained professional. There are many ways therapy can help your love life, and seeking it out is nothing to be ashamed of.
"Helping singles with their love lives is one of my specialties, and I have encountered people who've been surprised that, as a therapist, I can help them find love," Anita Chlipala, licensed marriage and family therapist and author of First Comes Us: The Busy Couple's Guide to Lasting Love, tells Elite Daily. "I can understand why people might seek out a dating coach for help, but a therapist can help too."
Dr. Gary Brown, a prominent couples therapist in Los Angeles, agrees therapy can make a difference, but only if the person seeking it is willing to put in the work. "For those who are open, honest, authentic, and courageous enough to look inward, there can be a tremendous benefit," Brown tells Elite Daily. "People can learn about their wishes, dreams, and desires for the type of relationship they'd like to be in, and any unconscious barriers they may be erecting that hamper their ability to find and grow love."
Dr. Martha Tara Lee, a relationship counselor, clinical sexologist, and founder of Eros Coaching, says newly single people can also benefit from therapy in order to avoid bringing harmful patterns from their past relationships into future ones. "By addressing and resolving the underlying issues in their lives, they'll be able to ensure a more successful and happier relationship moving forward," Dr. Lee tells Elite Daily.
Singles aren't the only ones who can benefit from individual therapy. People in relationships can also find guidance on a one-on-one basis. "Couples therapists frequently help individuals," Chlipala explains. "The therapist keeps the relationship in mind when working with the client on their accountability, improving themselves, and how they can positively impact the relationship — even without their partner in the room."
Regardless of your current relationship status, therapy can be beneficial. Here's how it can help you find, form, and foster healthy relationships.
If this is resonating with you, it might be time to seek out a therapist. The sooner you begin to resolve and explore your struggles, the sooner you'll be able to give and receive the kind of love you deserve.
"It might be helpful to think of a therapist as a teacher giving you the information and the tools you need to have a happy and healthy love life," Chlipala says. And who couldn't use a few more specialized tools in their emotional toolbox?
The wise words of RuPaul ring true. "If you can't love yourself, how the hell are you going to love somebody else?" A therapist can help you improve the most intimate relationship in your life — the one you have with yourself. And that is worth all the time and effort in the world.
Experts cited:
Todd Baratz, a licensed psychotherapist
Dr. Gary Brown, a prominent couples therapist in Los Angeles
Anita Chlipala, licensed marriage and family therapist and author of First Comes Us: The Busy Couple's Guide to Lasting Love
Dr. Martha Tara Lee, relationship counselor, clinical sexologist and founder of Eros Coaching