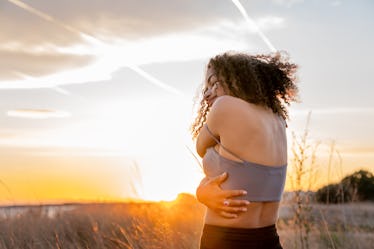 Here's Why You Should Consider Therapy After Leaving An Abusive Relationship
Shutterstock
Leaving an abusive relationship is the first step toward ensuring you can lead a happy, healthy life. But once you've walked away, you may be left with a rollercoaster of confusing and potentially overwhelming emotions to cope with. Fortunately, you don't have to experience them alone. After an abusive relationship, therapy can help you on the road to cultivating self-compassion and self-love, building up your self-esteem, eradicating shame, learning how to trust others again, and understanding what constitutes a healthy relationship.
"Contrary to popular opinion, asking for help does not make you helpless or powerless," says Peggy Whilde, director of programs at the National Domestic Violence Hotline. "It is in fact, a strong recognition of your own power to be able to seek help and be open to receiving it."
According to clinical psychologist Dr. Joshua Klapow, Ph.D., seeking therapy is one of the most effective avenues to healing because having a safe space to untangle your painful thoughts and feelings is key to preventing them from contributing to larger, more destructive issues.
"Abusive relationships can deeply damage emotions, emotional responses, and patterns of thinking," he explains. "It can wreak havoc on a person's psychophysiology and their body's response to other stressors. Therapy with a qualified professional can help reduce all of this and get a person back on track with a healthy life."
Ready to start a new chapter? Here are some of the top reasons you might want to consider therapy after leaving an abusive relationship.