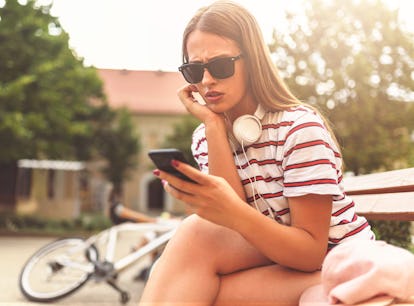 Here's How To Respond When Someone Flakes Out On Your Dating App Convo
Shutterstock
It doesn't always happen, but sometimes you start messaging someone on a dating app and you just click. You and your match seem to have endless things to talk about. The conversation never lags. A date with this match seems imminent — until suddenly, your match gives you nothing but radio silence. Though I can't explain why the heck your Bumble or Tinder match stopped responding when the convo was going so well, I can tell you this: There are ways to deal besides simply moving on. It's possible to resurrect a conservation that's fizzled out, so don't fret — you and that match may still have a chance.
Of course, the question is how to get that match's attention again without seeming needy or, worse, accusatory. I spoke to online dating expert Julie Spira, who pointed out that you're likely competing for your match's attention with several others — not to mention everything else going on in their life — so try not to take their inattentiveness personally. "Remember that the person you're chatting with is most likely messaging with a dozen or more others, in between swiping to match with another bunch of fresh faces to add to the queue," Spira says. Relationship and online dating expert Jess Carbino also weighed in on how to naturally get back into the flow of talking to your match. If you want to get back on your match's radar, try some of these approaches.
The best thing and worst thing about dating apps is actually the same: There are so many potential matches out there. When you're juggling so many different people and conversations at once, it's easy to let a good one slip through the cracks. As Spira points out, "Chats that begin with excitement and seem promising often end abruptly if the momentum is lost and someone else catches their digital eye." But even if your match allows your convo to lose momentum, don't be afraid to give them a nudge. You might just help them see what they're potentially missing out on.
Experts:
Julie Spira, online dating expert
Jess Carbino, relationship and online dating expert
This article was originally published on