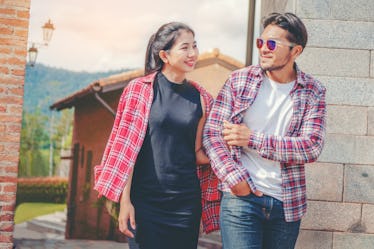 4 Signs Someone's Not Interested In A Relationship With You
Shutterstock
Let's be honest: Dating can be really tough. It's sometimes almost impossible to know what another person is thinking, and even when someone tells you how they feel, there might still be ambiguity. I've certainly dated people and had no idea that they weren't looking for a relationship until months in. If you've been in a similar situation, you may look back and wonder if you missed the signs someone's not interested in a relationship with you. It's not your fault this has happened, and these signs can often be unclear or non-existent. You don't need to blame yourself for missing any clues, but it can be helpful to learn some of the more common signs, so I spoke to an expert to get the deets for you.
Sometimes people change their minds or don't know what they want. I've slept with people casually who were so clear from the beginning that they didn't want a relationship, but then later decided they wanted one. I've also gone on first dates where the guy brought up taking a weekend trip right away and then ghosted me. It can be really hard to read clues about relationships, and you have no reason to feel guilty about missing them. Additionally, these signs don't necessarily mean someone is definitely disinterested in a relationship. Still, it might be important to keep yourself informed about what trends suggest someone isn't looking to seriously date.
Read on to find four major signs that someone might not be interested in a relationship with you.