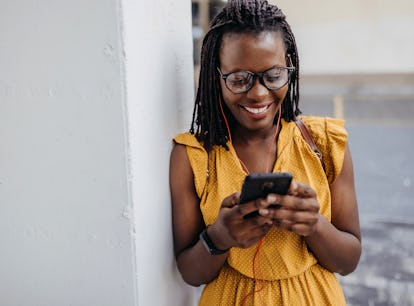 7 Signals You Can Spot Over Text That Mean Someone Likes You
Now you'll never have to wonder.
StefaNikolic/E+/Getty Images
Sometimes I think about the fact that my parents used to call each other on the phone to arrange dates (and not even on their own personal phones — on the communal phone in their dorm hall), and I want to shriek. Having the power to text your crush a gif whenever you want is a serious game-changer, but texting your crush can also be seriously confusing, since you can't always tell what the other person is thinking. What does that GIF mean, anyway? And what does it mean when he sends you memes? Luckily, even if you can't hear your crush's voice, there are still some telltale signs the person you're texting likes you.
There are the obvious signs, of course. If your crush takes 48 hours to respond to "Hey," then they're probably just not that into you. If you only get one-word answers in response, things are also not looking great. But even if you're getting non-caveman-like responses back in a timely manner, it's not always easy to tell if your crush is smitten or just being polite.
Elite Daily previously spoke to April Masini, relationship expert and founder of Relationship Advice Forum, Damona Hoffman, relationship expert and host of the Dates & Mates podcast, and Maria Avgitidis, CEO of matchmaking service Agape Match and host of the dating podcast Ask A Matchmaker. They told us the signs to look out for when you're texting with a crush.
This article was originally published on