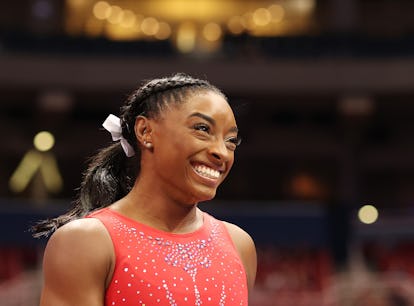 Simone Biles And Jonathan Owens' Zodiac Signs Are Flippin' Hot Together
Their astrological compatibility def deserves a gold medal. 🏅
Carmen Mandato/Getty Images Sport/Getty Images
If you're not familiar with Simone Biles' adorable relationship with Jonathan Owens, then you've been missing out. The four-time Olympic gold medalist and the Houston Texans star first connected on social media back in March 2020, and the two have been going strong ever since. On her Facebook Watch series, Simone Biles vs Herself, Biles even said she and her boo are "meant to be," while Owens called his relationship a "match made in heaven." Luckily, Simone Biles and Jonathan Owen's astrological compatibility seems to reflect their claims.
Born on March 14, Biles is a Pisces, and Pisceans tend to be deeply empathetic individuals who live for romance. Owens was born on July 22, which makes him an equally empathetic and romantic Cancer. Since they're both water signs, this powerhouse couple likely has no problem with establishing trust, utilizing good communication skills, and understanding each other's emotions. Pisceans love relationships that excite and inspire them, and Cancers complement that by giving their partners strength and stability.
The only thing these two potentially have to worry about is the different values that Pisceans and Cancers tend to have in life. Since Cancers value a stable environment and Pisceans crave change, they might find themselves butting heads at one point or another.
The fish of the zodiac are sweet, sincere, and tirelessly optimistic, and Biles has always made it clear she's here for a good time. As she told Time back in 2016, her goal isn't to win — it's to find joy. "I think I'm teaching my teammates that they can still be successful while having fun, and enjoying the moment rather than being a stone cold brick," she said. "You can have fun and do well. Just let loose a bit." The Olympian has earned a reputation for having a heart of gold, and like most Pisceans, when she falls in love, she tends to fall hard.
In January 2021, after Biles became Instagram official with Owens, she appeared on the Today show, where she gushed about her new man. "I just love him," she said. "We have a great time together. Our personalities match right up. We have the same sense of humor. And he's just great." And while it's true that a Pisces' buoyancy and love of intimacy work well with a Cancer, a fish can get so swept up in the romance that when it comes time to settle down, they get scared and swim away.
Like most Cancers, Owens seems totally down-to-earth (and in fact, he didn't even know who Biles was when they first met). "I didn't know who she was," Owens told Texas Monthly in June 2021. "I just hadn't heard of her, and when I told her that, that's one of the things she liked." While Pisceans are dreamers, Cancers tend to focus their energy on the home, and for many of them, their biggest priorities are family and stability. And since Owens said on Simone vs Herself that "her work ethic was really the first thing that caught [his] eye," then chances are he's seeking security in his relationship.
Though I can't say whether Owens and Biles are on the same page about their future, here's hoping they're just focusing on what they have right now, which looks pretty blissful to me. With the astrological compatibility of a Cancer and Pisces, these two are destined to make it.