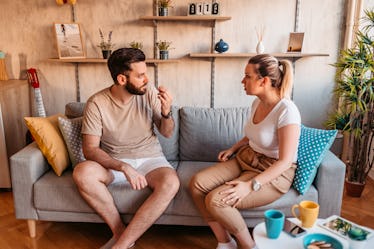 Here's What To Do If Your Partner Doesn't Vibe With Your Fam
It's called ~compromise~.
urbazon/E+/Getty Images
Introducing your partner to your family can be a huge relationship milestone. But in the midst of all the introductions, you might feel concerned about whether your family will like your partner as much as you do, and vice versa. Hopefully, everyone will get along swimmingly, but if your significant other doesn't like your family, and your family is really important to you, it can lead to a rift in your relationship.
Maybe your partner doesn't share the same political opinions as your dad, or they feel like your siblings always seem to have something negative to say, or they're just not vibing with your mom. Regardless of the reason, if your boyfriend doesn't like your family or your girlfriend dreads hanging out with your folks, it can be really painful. But it is still possible to work things out in a way that both you and your partner can agree on, because you should never be put in a position where you have to pick between the people you love.
"Any time you feel caught between your partner and your family, it can feel uncomfortable and tense, as though you have to choose sides," Samantha Burns, dating coach and author of Breaking Up & Bouncing Back, previously told Elite Daily. "It's easy to get defensive when talking about this subject, so try not to blame your partner and let them know your hopes, goals, and expectations for family gatherings."
Even if you're worried that your boyfriend hates your family, your partner needs to be willing to reach some sort of compromise — especially if they know how important it is to you that they connect with your family on some level. To initiate that conversation, Burns suggested positioning yourself as a buffer to help break the ice between your lover and your loved ones. "Let your partner know it means a lot to you to see everyone get along and ask your partner how you can help build or improve their relationship with your family," Burns advised.
A little bit of compromise and a whole lot of communication will go a long way.. As difficult as either of those things may seem, they are certainly possible, and they can do wonders for your relationship.
Experts
Samantha Burns, dating coach and author of Breaking Up & Bouncing Back
Claudia Johnson, MA, Licensed Marriage and Family Therapist Associate with the PNW Sex Therapy Collective
Joshua Klapow, Ph.D., clinical psychologist and host of The Kurre and Klapow Show
Evan Marc Katz, dating coach
Sarah Watson, licensed professional counselor and certified sex therapist
This article was originally published on