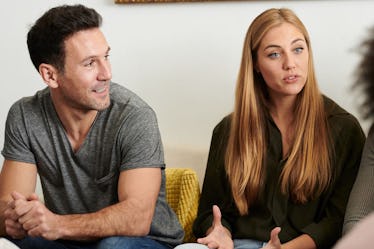 How To Draw Boundaries If Your Partner's Family Is Overwhelming, According To Experts
Meeting your partner's family for the first time can be one of the most nerve-wracking parts of a new relationship. But if you're lucky, once you've gotten to know them, you might feel like you have a second family. There are a million perks that come along with having more people to love, but it's normal to occasionally feel overwhelmed by bae's family. Fret not. When this happens, there are ways to draw boundaries with your partner's family, so that your feelings towards them don't get in the way of your relationship.
You and your partner are a team, and if you feel like their family is a lot sometimes, it may be best to take it up with bae before bringing it up directly to their family. "There's a formula for having healthy relationship discussions, in which your partner can hear you and wants to buy in," dating coach Evan Marc Katz tells Elite Daily. "You want to start with praise and appreciation for your relationship. Then, you have to state your issue, whatever the issue is, and how that issue makes you feel, so it's not an attack. You're not saying anybody is wrong. Once you attack your partner or your partner's family, they're going to either attack back or withdraw from the conversation — it's a flight or fight mechanism," he explains. "Then you have to come up with a solution."
Once you and your partner have discussed how you feel about their family in a way that you feel like you understand each other, you can begin setting boundaries with their family, little by little. Here are four ways to do just that.