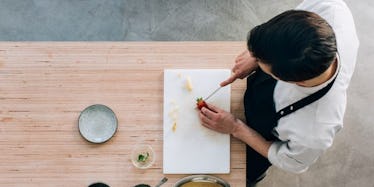 A Professional Chef Shares The Best Homemade Aphrodisiac Recipe For Valentine's Day
Julien L. Balmer
When I was in college, I frequently slaved over the stove, making a variety of recipes I dug up online.
I ate my fair share of junk food, but a lot of the time, I made a conscious effort not to gain the "Freshman 15" every single year.
Now, the only times I find myself free to cook as an adult (a term I use loosely) are times when I really, really don't want to. Chalk it up to a busy schedule.
With Valentine's Day approaching, I used a (fifth!) date this past weekend as an opportunity to remind myself why I actually do love putting together my own dishes — and why it's so goddamn hot when you prepare a meal with someone else.
Food and sex just go together. Smells trigger your senses, you have an opportunity to use your hands and it's extremely rewarding to hear that subtle moan after that person takes a bite of your home-cooked dish.
Food and sex just go together. Smells trigger your senses, you have an opportunity to use your hands and it's extremely rewarding to hear that subtle moan after that person takes a bite of your home-cooked dish.
Acclaimed Michelin Star chef and Swiss entrepreneur, Jürg "ChefFed" Federer, agrees with me.
The master of aphrodisiacs believes cooking with items that stimulate sexual desire will take diners on "a joyride of unexpected, delightful twists and turns – like that perfect date night that leaves us smiling on the way home."
That's why, in honor of the approaching love-filled holiday, ChefFed teamed up with SKYN to curate an exclusive aphrodisiac recipe for Elite Daily using two flowers attributed to arousal: jasmine and lavender.
"Smelling these emotions in this feDish is like walking down the street and smelling the perfume of the love of our life – on a stranger: This olfactory experience can catapult us into a different location, time zone and emotion," ChefFed tells Elite Daily. "This part, played by lavender and jasmine, is the aphrodisiac on this feDish."
Below, you can find the recipe for ChefFed's Lavender Rice meal, set with ingredients and plating instructions.
Just remember: It's OK to make some mistakes (as long as you don't burn the apartment down).
"Start out with recipes you're comfortable with, it's a playful scavenger hunt and not a bar exam," ChefFed adds. "Allow yourself to fail. There's no NY Times food critique anywhere near."
ChefFed's Valentine's Day-Inspired "Lavender Rice"
First, make the rice and lavender base for your dish.
Rice and lavender 1 cup jasmine rice 1 Tbsp. lavender flowers (crushed with mortar and pestle) 1/4 tsp. salt 2 cups water
Combine all the ingredients in a saucepan. Bring the rice to a boil, cover the pan with a lid and turn the heat off. Let the rice sit in the pan for 20 minutes or until you're plating.
Then, make the berries and angostura as a sweet and colorful component.
Berries and angostura 1/4 cup water 1/4 cup apple cider vinegar 2 Tbsp. sugar 2 Tbsp. honey 1/4 tsp. salt 1 sprig rosemary 1/4 tsp. angostura bitters 1/2 cup blackberries 1/2 cup blueberries
Combine the liquids and the spices in a saucepan and bring the brine to a boil.
Add the berries and wait until the brine comes back to a boil.
Lower the heat so the brine simmers.
When the brine thickens, after about 15 minutes, remove the saucepan from the heat and set the berries aside.
Next, combine shiitake mushrooms and coriander herbs for a more savory element.
Shiitake and coriander 4 cups trimmed and quartered shiitake mushrooms 1 tsp. coriander crushed fresh 1/4 tsp. cumin crushed fresh 1/2 tsp. red pepper flakes 3 to 4 sprigs of thyme 2 Tbsp. olive oil 1 tsp. soy sauce 1/2 tsp. salt 1 cup creamy coconut milk
Pre-heat the oven to 400 degrees F.
In a bowl big enough to hold all the shiitake mushrooms, combine the liquids and the spices.
Whisk vigorously so the oil emulsifies with all the other liquids.
Toss the shiitake in the mix to marinate, then evenly lay them out on a baking sheet with parchment paper.
Bake the shiitake for 10 minutes. When you remove the shiitake from the oven, remove the thyme and throw it out.
In a saucepan, bring the coconut milk to a boil.
Add the shiitake and reduce the sauce until it thickens. Remove the mushrooms from the stove.
Now, utilize the following ingredients to prepare a topping/garnish.
Cucumbers and mint 2 Tbsp. whole almonds 1 Tbsp. shaved almonds 1/2 cup small diced cucumber 2 Tbsp. finely chopped parsley 2 Tbsp. finely chopped mint 2 Tbsp. olive oil 1 Tbsp. grated fresh ginger 1/2 lime juice 1/4 tsp. salt
In a non-stick frying pan and on medium heat, dry-roast the whole almonds and set them aside.
Then, dry-roast the shaved almonds and set them aside as well.
Combine the whole almonds and all the other ingredients except the shaved almonds in a mortar.
With the pestle, crush the ingredients until all the almonds are broken down to crunchy pieces.
Finally, put your dish together.
Plating
Use round molds to build a socket of rice.
Then, use a smaller round mold to build a little tower of cucumbers and mint.
On top, put the shaved almonds.
Surround the dish with shiitake and with pickled berries, and drizzle some berry brine on the plate for color.
No judgment if you eat it with your hands — or off each other.