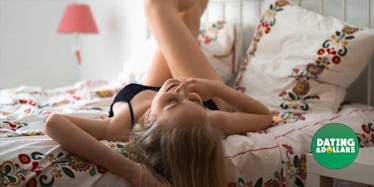 4 High-Quality Sex Toys That Are Definitely Worth The Money
Milles Studio
We've all dreamed our perfect man is somehow going to find us, sweep us off our feet and make hot, passionate love to us, giving us orgasm after orgasm.
But unfortunately that's not how life works.
We all go through dry spells — some longer than others — but why should we have to wait for a man to be the one to give us mind-blowing orgasms?
I'm talking about making love to yourselves, ladies! That's right. We don't need a man.
Sex toys can range from crazy cheap (and cheaply made) to super expensive. I've always thought if you're spending hundreds of dollars on workout gear from Lululemon and gym memberships to be healthy, why can't you apply that to your sex life, too?
While your first trusty vibrator has done its job of getting you to explore your body, it's time to grow up and invest in a sturdy, more expensive bedside friend.
And when you upgrade your vibrator, it comes with so many perks. The material is all around better, and you can say goodbye to those pesky batteries always dying when you're a second away from climax. Not to mention, the more expensive the vibrator, the better your orgasms can be.
So, ladies (single and taken), here are the very best, slightly more expensive sex toys you can invest in:
We-Vibe Tango, $75, Amazon
The Tango is 100 percent waterproof, rechargeable, portable and amazing for clitoral stimulation.
It's made from the best quality material, and it has a few different vibration settings, depending on your preference.
LELO INA Wave, $177-190, Amazon
The INA Wave Double Pleaser is designed to feel like someone else's fingers are touching you.
Packed with dual-action settings, it leaves you breathless from the inside out by hitting your G-spot and clit with about 10 different settings, giving you orgasm after sweet orgasm.
Another plus? The silky silicone is comfortable and allows for super easy clean-up.
LELO ORA 2, $189, Amazon
This circular-shaped, handheld vibrator isn't just any vibrator. Actually, it imitates the sensation of oral sex with swirling strokes and fast flicks. I'm sure I can't be the only one who thinks that sounds amazing.
So no special someone in your life to please you? Well, that's not a problem since this baby does it all for you. And the benefits certainly outweigh the price tag.
I mean, just think of how many times (per day) you're going to use it.
Womanizer Pro W500 Vibrator, $198, Amazon
This handheld clitoral stimulator provides sensational vibrations sure to bring you straight to climax faster than you thought possible.
It's made with a light suction ending to really stimulate all your nerve endings, and that combined with the eight vibration settings will give you an unforgettable orgasm (or several).
The Womanizer is made out of super comfortable silicone that warms to your body's natural temperature. And did I mention it charges via USB chord? No batteries necessary, babe.
Unfortunately it isn't waterproof, but I think it comes with enough pros to outweigh this one particular con.
So, ladies, I think I can say with great certainty that we don't need a man to pleasure us. Sure, I having sex with an actual person is always great fun. (I even prefer it, sometimes.)
But if hot, steamy sex with a hot, steamy person isn't an option for a little while (or even if it's an option all the time), you'll always have your trusty bedside vibrator to work you through it — a few times at least!