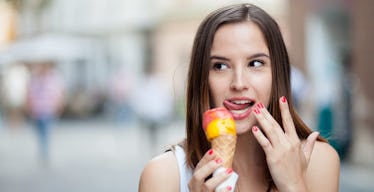 The 'Ice Cream Stand' Is The Sex Position No One's Heard Of But You Need To Try
Stocksy/Peter Bernik
So, you've read the Kama Sutra beginning to end, eh? You've mastered everything: all of the various spoons, the Pile Driver and even the Wheelbarrow.
Guess you can hang up your sexual hat (it's one of those big fascinators British royalty wear to the races) and call it a day now, right?
WRONG.
You've yet to master the "Ice Cream Stand."
*furiously Googles definition*
Yeah, good luck with that search — you won't find it on Urban Dictionary or anything hosting similar smut. It might be lurking somewhere deep in the dark, dusty archives of the internet, but it'll take you days to find.
That's because this position's reserved for the sexual elite, the bedroom big dawgs, the coitus mavericks.
Think of it like that secret sex book from "American Pie" that has instructions for the "Tongue Tornado."
Growing up, the Ice Cream Stand was just an urban myth that needed to be put to the test.
Have I done it, you ask? HA, of course I've done it. You're talking to a guy who once had an encounter with the turd kind.
Normally, I wouldn't share this secret formula, but I watched "Love Actually" last night and if you can't be honest on Christmas, then when can you be?
But if I do this, you've got to commit. No "Haha, that's funny. I'll think about giving it a go some time." I want you to commit.
I want you to go home and do it tonight. I WANT YOU TO ATTACK THE ICE CREAM STAND.
So, if you're ready to join the big leagues, let's do this.
How do I perform the Ice Cream Stand?
Buy an ice cream (must include a cone with a curved bottom).
Have your partner do a handstand against a wall.
Gently insert ice cream cone into chosen orifice.
Chow down.
It's a game time. You've got to finish the entire thing — cone and all — and reach your prize (be that vagina or anus) before your partner's arms get tired.
Good luck out there.
P.S. There's nothing sexy about this.