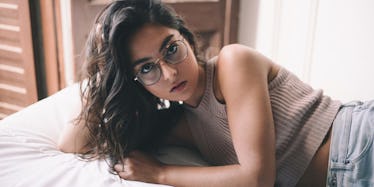 5 Ways To Keep Sex In Your Long-Term Relationship Hot AF
You need to keep your sex life feeling NEW and HOT AF, regardless of your sexual orientation, gender identity, WHATEVER. (It's not my business.) And I'm about to help you.
Because the more we, as a collective society, have regular, incredible, mind-blowing, spine-tingling, HOT AF sex, the brighter our increasingly dark, bitter, pent-up world will be.
To start, I, your no-holds-barred, lesbian big sister, am going to toss a real gem at you: When you're in a relationship, the magic of new sex will eventually wear off.
I don't care if you're young and nubile, and I don't care if you're having the best sex on the planet right now. Eventually, that burning feeling of NEWNESS will taper off.
This weekend, I went to a Sexual Health Expo in a lovely warehouse in Brooklyn, where I got to speak one-on-one with sex educator icon Emily Morse, Ph.D (of the famed "Sex With Emily" podcast that I listen to religiously).
Here is me and Morse bonding over our mutual love of sexual empowerment:
Well, lez me tell you, babes, Morse is super stylish and radiates a chic yet open-hearted energy that makes you feel like you could ask her anything. So, girl, I DID.
I worry about the sex fading in a long-term relationship, because to be honest, it always has for me. What starts out as ELECTRIC, MAGIC, OH-BABY-I-CAN'T-GET-ENOUGH sex quickly turns into I'M-TOO-STRESSED-FROM-WORK to even give it the old college try.
And I don't want that depressing, sexless lifestyle to be my future, you know? I want to have the glorious comfort of a long-term relationship and regular, hot sex forever and ever.
So not only did Morse give you guys some tips for keeping the sex life ~hot~ (and feeling new), I also provide some tips of my own... from all the, um, hands-on research I've done myself.
Here is a quick list of sexual diamonds that will keep you orgasming for days and days.
1. Sext the day away.
I'm a big fan of sexting, and Morse is, too. "The brain is the largest sexual organ for women," she tells me, and the cerebral action that goes into sexting makes for some fierce foreplay.
For me, personally, there's an added element of danger and excitement tossed into the sex mix when I've received a scandalous text during the work day. The juxtaposition of being in a very unsexy environment (work) and receiving a very sexy text message gets me really hot and bothered.
Sexts create sexual tension because you're reading about sex on your phone, but you can't have it right THEN. It's a torturous form of digital foreplay. Who doesn't love to be tortured?
Sexting is a torturous form of digital foreplay. Who doesn't love to be tortured?
After that, I'll be craving sex all day long. Sex will then become the driving force behind everything I do that day.
This is great because adding a little bit of sexual energy into your work, whether you're a writer, a banker or an Upper East Side dog walker (my dream gig) will only make the end result of whatever project you're working on better.
2. If you're not using lube, buy a bottle RIGHT NOW.
"I think there should be a bottle of lube on every nightstand in America," Morse says. Can I get a YAS QUEEN?
I think there should be a bottle of lube on every nightstand in America.
I get it, babes. We're young, and we want to think we're so naturally wet that we don't need lube, bitches. I used to have a massive ego about lube and refused to use it.
But then, the girl I was sleeping with insisted that I try le lube, and it was a whole new world. The clouds broke open and butterflies emerged from all the dark, tall buildings.
As Morse says, "just a few drops on the clit" can rile you up in ways you never thought possible. Plus, she explains that you can't expect to stay wet the entire time during penetration, and we all know when we dry up, sex can get a little uncomfortable.
And "uncomfortable" and "sex" should never be used in the same sentence.
There are SO MANY types of lube out there. There's edible lube, tingling lube and even organic lube for those eco-conscious, vegan vixens. I promise they all give you different types of sensations, and thus, different types of orgasms.
I recommend going to Babeland's online shop because I trust those girls from Babeland with my (sexual) life. And all the lubes those babes carry will be worthy of your glorious clitoris.
3. You need good ~vibes~.
Someone I may or may not have dated wasn't into vibrators because she vehemently felt "she doesn't need one to orgasm."
And maybe you feel this way, too. Again, our egos get in the way of our sex toy explorations to the detriment of our sex lives.
No, we don't need vibrators to have orgasms, sweet kitten. I swear, this isn't a personal attack against your skill set.
However, Morse says vibrations are different sensations, which, in turn, give you different types of orgasms. She encourages everyone to use vibrators to keep the "newness" in your sexual relationship.
This is absolutely true. Our fingers, while very capable extremities, don't vibrate (naturally). So adding a little vibration adds a different element to sex.
Plus, it's a new sensation, and new sensations are what will keep your sex life hot.
I talk about this in my "How Lesbians Have Sex" video, which you really should watch:
There are vibrators so tiny, they can rest right on your clit, giving you additional stimulation during penetration. There are couples' vibrators, and there are even vibrators that your partner can stick inside of you — ones that are designed to hit your G-spot.
4. Anal toys are to be celebrated, not feared.
I will not lie to you, I'm terrified of anal. But I'm also really excited about the idea of it.
Apparently, according to Morse, using even just a small butt plug can give you a really mind-blowing kind of orgasm. Morse says that the orgasm can even be different with a butt plug.
While I'm nervous about anal play, I'm on the same page Morse: I crave different kinds of orgasms.
Plus, I think venturing into new territory is key in keeping the sex feeling new and hot when you're in a long-term relationship!
Venturing into new territory is key in keeping the sex feeling new and hot.
Anal toys come in all different sizes, so you can start really small. There are plugs, beads and dildos that are all exclusively made for the bum.
I don't recommend venturing into such vulnerable territory, however, unless you're with a person you can totally trust. Not any punk from the street gets to share such a sacred experience with you, you hear?
5. Play out the fantasy.
Morse and I also talked about the importance of having sexual fantasies, and how some women actually aren't even having sexual fantasies at all. After bringing up the question of ~fantasies~ to my close friends, I found that half the women in my circle don't have them, either.
Well, no shame in the no-fantasy game, but I think this is a great time to start exploring some sexual fantasies. Morse suggests maybe you and bae can watch some porn together. Or maybe you could role play, use lube or have sex somewhere scandalous, like the kitchen table?
Start exploring some sexual fantasies.
I recently realized that my own sexual fantasy is bondage. Not just the DIY bondage you drunkenly try out one night — I want to know how the real pros tie their baes up.
So, I decided I'm going to take a class. (So many sex shops have amazing classes. Check out course horse. You will be amazed.) That way, I can play out my bondage fantasy.
Morse also thinks girls need to be masturbating. "You need to get to know your body," she tells me. Once again, can I get a YAS QUEEN?
It's a good idea to just touch yourself and let your mind wander, babes. You'll come up with a scenario that wildly turns you on, I promise. Your imagination will never steer you in the wrong direction.
Look, guys, if you take anything away from this article, it's this: Sex should be fun!
Morse told me right at the beginning of our convo that girls in particular need to realize that sex is as much for our own pleasure as it is for our partner's pleasure. I couldn't agree more!
Sex, love and dating are the best, most glittery parts of our lives. Yes, our lives are totally legit and valid without it, but sex and love are like a fabulous pair of designer shoes.
Can you do your job without wearing designer shoes? Of course you can. But will you have more fun at your job when you stare down at your feet and see something so fierce adorned to your body? Absolutely.
It's the same with sex and love, girls. Sex and love are like the Manolo Blahnik to your life.
Check out this video for some of my oral sex tips, because oral sex is like a coveted, patent leather Chanel handbag to your life.