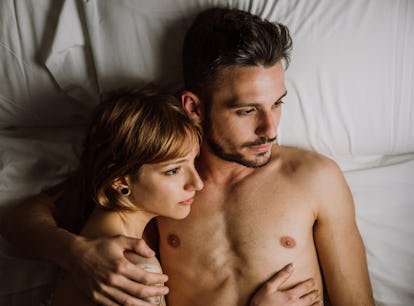 Here's How Sex Can Change After Infidelity
Things might not go back to normal right away.
Fabio Formaggio / EyeEm/EyeEm/Getty Images
Doing the deed. Getting laid. Making love. It seems as though every euphemism for sex implies an action. That's because sex is largely considered a physical activity, though it's just as much an emotional experience as it is a physical one. Sex is intimate in more ways than one, which is why, when a partner is unfaithful, your bedroom activities might suffer as a result. Sex changes after cheating, but in order to understand how, it's important to define "cheating" for yourself and your partner.
For some people, cheating is sex with someone outside the relationship. For others, it may look like something more benign than sex. "I've heard cheating defined as everything from masturbating, to looking at porn, to having sex with another person, to falling in love with someone else," Nebraska-based AASECT Certified Sex Therapist and AASECT Certified Sexuality Educator Kristen Lilla tells Elite Daily. "It's dependent on someone's values and history. I think this is an important discussion for couples to have so they both understand what the other person's boundaries are."
No matter how you define cheating in your relationship, Luke Thao, a Licensed Marriage and Family Therapist Associate (LMFTA) and member of the PNW Sex Therapy Collective based in Seattle, says it's imperative to communicate how that transgression affected your feelings about the relationship — before jumping into sex again. "For my clients, I'd want to guide us to conversations around what's at stake for you, what's been transgressed, where do you want to go now, what's the healing and the transformation that comes out of that?" Thao tells Elite Daily. "We're starting with a conversation about cheating but we move into conversations around trust, comfort, emotional needs that no one wants to talk about."
If you do eventually get back to having sex, though, NYC-based sex therapist and social worker from Peaceful Way Psychology Danica Mitchell says it might feel different than it did before one or both partners cheated, whether they've engaged in an affair or a one-night stand. "There is often a shift in sex after infidelity," she explains. "People can respond very differently, especially factoring in their upbringing and past relationships." So yes, sex changes after cheating. But what sort of changes can you expect? If you or your partner has strayed, here are some of the ways in which your sex life might be impacted as a result.
Outside of sex, Lilla advises there's a lot of work to be done to restore a relationship after an incident of cheating. "It's important to go to therapy and process the infidelity together. It is important to understand why the affair happened to prevent a situation like that from occurring again," Lilla says. "It also takes time to rebuild trust, and if you want the relationship to work then you need to both be patient. Trust doesn't exist in a vacuum, though. I often hear people say 'I'll never trust them again,' but they do trust their partner to go to work and pay the bills, so I focus on what they can trust so we can then focus on where to rebuild."
Working your way back to a fiery sex life and a comfortable relationship is never easy after infidelity — but with the right mix of patience and dedication, it's possible to come out of it stronger than before.
Experts:
Luke Thao, MA, LMFTA (Licensed Marriage and Family Therapist Associate)
Kristen Lilla, AASECT Certified Sex Therapist and AASECT Certified Sexuality Educator
Danica Mitchell, sex therapist and social worker
This article was originally published on