Everything I've Learned About Love (So Far)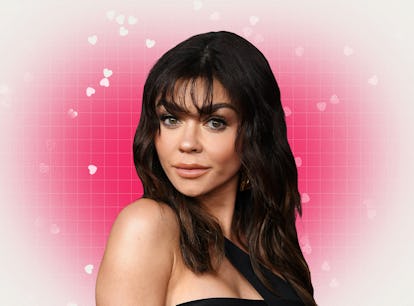 Sarah Hyland's Love Story Played Out Like A Modern Rom-Com
It all started with a Twitter meet-cute.
Elite Daily; Steve Granitz/FilmMagic/Getty Images
Sarah Hyland chose her husband for his taste in books. OK, it's not quite that simple, but it was Wells Adams' literary references that first piqued her interest. "I love men who read," the 32-year-old actor tells Elite Daily.
When Adams appeared on JoJo Fletcher's season of The Bachelorette in 2016, he spoke about Harry Potter and Lord of the Flies, even nicknaming the season's villain "He Who Must Not Be Named." Fortunately, his book club analyses made the final cut, and they gave Hyland something to tweet about. "Those are two of my favorite books from childhood, so I just made a joke of 'Men who read are hot,' as a Bachelor Nation fan would," she recalls. "I was never trying to shoot my shot with him. My thought was just that he was funny and obviously could read, which was a low bar but high standard for me."
Hyland might not have meant anything by her first tweet, but when Adams read it (you know, because he reads), a flirty exchange began... one that's still going on to this day. As Hyland put it, "Something worked." In August 2022, the couple got married, and they're still enjoying the newlywed phase.
On the heels of her partnership with Ancestry and her and Adams' episode of 2 Lies & A Leaf (a YouTube series in which celebrities are quizzed on their family histories), Hyland discusses her and Adams' relationship, her favorite moment from their wedding day, and how the couple views family.
Elite Daily: Do you believe in "the one"? How did you know Wells was yours?
Sarah Hyland: I hate to be a cliché, but it's that cheesy feeling of when you know, you know. I believe that Wells is my one, but I also believe that relationships take more work than just finding the one. Once you've found the one, it's not like your fairy tale ends there and everything is smooth sailing. It's easier when you have found the one, but every single relationship takes work.
ED: What's one underrated thing you love about Wells?
SH: He loves his family and his chosen family. That's why it was so fun for us to do 2 Lies & A Leaf with Ancestry. I loved seeing his curiosity in learning about his family. I'm a big fan of knowing where and who you come from, so I loved that he was so interested as well.
ED: Speaking of family, Wells asked your Modern Family parents for their blessing to propose. How did that make you feel?
SH: It was really special. He took both of my birth parents out to lunch and ask them for their blessing, and he hunted down Julie [Bowen] and Ty [Burrell]. It's amazing that he understood how close we were. As a cast, we're so close, like an actual family. And it's amazing to be able to grow together in that sense. I've gotten really close with Dean [Unglert] and Caelynn [Miller-Keyes] and Wells has gotten really close with Julie, Ty, Jesse [Tyler Ferguson], and his husband, Justin [Mikita]. We're just this big amalgamation of ABC's wet dreams.
ED: Which Modern Family couple did you ship the most?
SH: I will die on the hill for "Handy." Haley and Andy, all day, every day. We didn't get that, but it's OK, because now, Adam [Devine] and I are in Pitch Perfect: Bumper in Berlin on Peacock, so people can live out their Handy dreams through our new characters, Heidi and Bumper. I like to call them "Humper."
ED: Back to your IRL relationship, your wedding was postponed due to the pandemic. How did the longer wait affect your actual wedding day?
SH: I think maybe I was able to be more present. On the actual day, I didn't get ready with any of my bridesmaids — I was alone with my hair and makeup artist. I'm not sure, had we gotten married in 2020, if I would have had the wherewithal to be so present and feel everything and smell everything.
ED: Did you have a favorite wedding moment?
SH: Probably seeing Wells for the first time when I was walking down the aisle. We have some great pictures of Wells crying like a little baby. I kept making a joke that if he wasn't going to cry, I would turn around and walk away. I guess people took that seriously, which I find hysterical. But if we still wanted to get married after making it through a pandemic, we're good. I would never walk away.
ED: What's your favorite thing about being a newlywed?
SH: It's so weird because of the pandemic and the postponement. At the top of 2020, we bought a house together, so we've felt married for a really long time. This is our family now.
ED: Now that you're happily married, what would you want to tell your younger self about dating and relationships?
SH: It's OK; it's going to work out. Just stay true to yourself, and it will all be worthwhile.
ED: What does love mean to you?
SH: I think love means acceptance, acknowledgment, being seen and understood, and being present.
This interview has been edited and condensed for clarity.