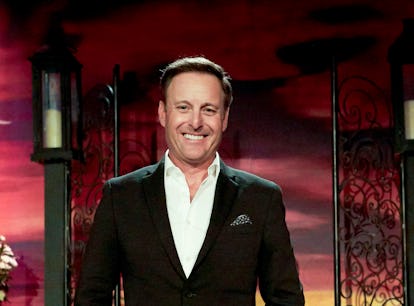 Chris Harrison Wanted Wells Adams To Replace Him As Bachelor Host
"That was kind of the easiest call since Ken Jennings got the Jeopardy job."
Craig Sjodin/Disney General Entertainment Content/Getty Images
Two years after Chris Harrison's controversial exit as host of the Bachelor franchise, he's returned to the spotlight to share his opinions about how Bachelor Nation has moved on. Specifically, he has some thoughts about his replacement. Harrison recently revealed he wanted Wells Adams to take on Bachelor hosting duties and was surprised when the franchise went in a different direction.
Harrison recently launched a new podcast called The Most Dramatic Podcast Ever... With Chris Harrison. The title is a cheeky nod to his catchphrase as Bachelor host, and Harrison is living up to its promise by revealing his take on behind-the-scenes drama from the franchise. In the second episode of the podcast, Harrison opened up about how Adams, a Bachelor Nation alum and the resident bartender of Bachelor In Paradise, reached out to him after his exit from the franchise.
"Wells has always been a very good man and a good friend of mine," Harrison explained. "Wells was in a very difficult situation because obviously he was still kind of connected to the show and he was doing stuff on Paradise, but he was one of the first to reach out to me and just say, 'Look, I'm staying out of this. I love you and respect you.'"
Harrison went on to explain that he was especially touched that Wells reached out because he thought that Wells would have made sense as his replacement as host. "I appreciated that, and I appreciate him, because if anybody had sights on the job it easily was Wells, and deservedly so by the way," he said. "I thought, to be completely candid, that Wells was going to get the job."
Former Bachelor and NFL player Jesse Palmer wound up getting the hosting gig, but Harrison thinks Adams was the more obvious choice. "I thought that was kind of the easiest call since Ken Jennings got the Jeopardy job," he said on the podcast. "He's in the family. Everyone loves him. It just seemed like a layup, but that's not how it went down."
Harrison even told Adams that he hoped he would replace him. Alas, that wasn't in the cards, but at least fans still get to see Adams doing his thing on the sandy shores of Paradise.