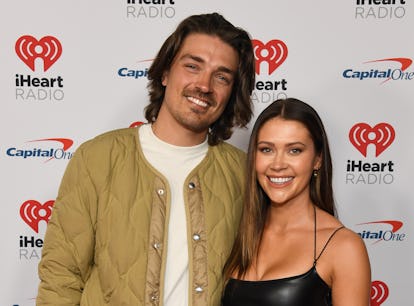 Dean Unglert Has A Surprising Reason For Wanting To Get A Vasectomy
His fiancée, Caelynn, explained his reasoning.
Jon Kopaloff/Getty Images Entertainment/Getty Images
Many of the couples who meet in the Bachelor universe tend to keep things traditional, but that's never been the case for Dean Unglert and Caelynn Miller-Keyes. The pair who first got together in 2019 on Bachelor in Paradise Season 6 has never shied away from navigating their love story in their own unique way, whether that entails multiple proposals or choosing a married name that's neither of their surnames. And recently, Miller-Keyes explained how she and Unglert are discussing an unexpected approach to family planning. According to Miller-Keyes, Unglert wants a vasectomy, and the reason why carries a feminist message about birth control.
Miller-Keyes said that although she and Unglert do want to have children in the future, her fiancé brought up the idea of getting a vasectomy so that Miller-Keyes wouldn't have to use birth control in the meantime. "He really wants to get a vasectomy — before we have kids," Miller-Keyes said on the Feb. 22 episode of the Help! We Suck at Being Newlyweds podcast. "He wants to get a vasectomy because he doesn't think it's fair that a woman has to take birth control. So then when we're ready to have kids, he would un-snip himself and we would have children."
When podcast host Jared Haibon questioned the decision, Miller-Keyes confirmed it's just something they've spoken about and they aren't fully sold on the idea just yet. "We both need to research this more," Miller-Keyes admitted. "But also, I heard, like, there could be pain that's involved if you get a vasectomy. And so, I was like, 'I don't want you to be in pain.' … Even after you heal, there could potentially be just everyday pain."
This wouldn't be the first time Miller-Keyes and Unglert have flipped the script when it comes to relationship norms. In the fall of 2022, Unglert proposed to Miller-Keyes after a hike, and then a couple months later Miller-Keyes proposed to Unglert during a horseback riding excursion. Miller-Keyes revealed the two had agreed to propose to each other rather than just having one engagement story.
The couple also revealed they'd be taking the last name "Bell" after saying "I do." The name change is in honor of Dean's mother, whose maiden name was Bell. Dean lost his mom to breast cancer when he was a teenager.
Although the lovebirds haven't yet revealed a wedding date, they've already picked out a venue in Colorado, so it looks like they'll be walking down the aisle pretty soon.