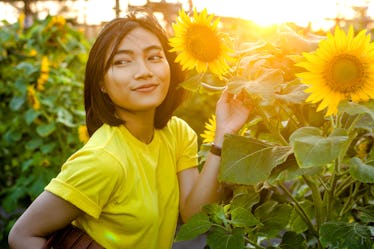 Here Are The 5 Zodiac Signs Best Suited To Date A Loving Leo
Get your fire emojis ready. 🔥
Shutterstock
When Dua Lipa sang, "You're my starlight," she was probably talking about a fellow Leo. These fiery lions radiate passion and romance. Theatrical and regal, Leos are the kings, queens, and genderless monarchs of the zodiac. So, it's no wonder that the five zodiac signs most compatible with Leo are also drawn to luxurious and exciting relationships.
"Leo loves anything connected to beauty and romance," Boston-based expert astrologer Michaela Carey tells Elite Daily. "They light up a room and will always find the spotlight," and prefer a partner who will let them take the lead. They are attracted to someone who is able to understand their natural energy and unwavering spirit, as these traits are a true sign of their deepest desires.
Houston-based astrologer and cosmic writer Chelsea Jackson adds that Leos are ruled by the sun and considered a fixed sign. This means they fall in the middle of a season and really represent their signature element: fire. "Leo season takes place during the height of summer, which really speaks to their desire to be acknowledged and noticed," Jackson says, noting that being a fixed sign is a major reason for Leo's loyalty. "They're really in relationships for the long haul!"
According to Carey, you can benefit from this loyalty if you're a fellow fire sign or can match Leo's passion for a grand romance. After all, no matter your sign, dating a Leo means turning up the heat. From verbal affirmations to giant displays of affection, they love being in love and want the world to know it. If you're wondering what signs are compatible with Leo, then these five take the cake.
Though their passion is enough to heat up any relationship, Leos are naturally drawn to other fire signs, which includes themselves. Ruled by the sun and drawn to all things beautiful, a Leo-filled relationship is sure to be #hot, energetic, and incredibly lovely.
Experts:
Michaela Carey, expert astrologer
Chelsea Jackson, astrologer and cosmic writer
Editor's Note: This story has been updated by Elite Daily Staff.
This article was originally published on