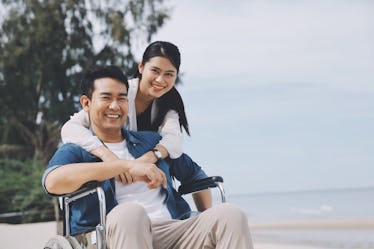 12 Cute Ways To Ask Your Significant Other "How's Your Day?"
We can all do better than "wyd."
Shutterstock
There's nothing better than getting a sweet text from your partner in the middle of the day. From swapping memes to penning love letters, texting with your SO can be the next best thing to hanging out with them IRL. And if you're looking for some cute "how's your day?" texts to send your partner and get the flirty conversations going, you've come to the right place.
No matter how long you've been with your SO, checking in with them throughout the day can be a sweet gesture to show you care. According to Anita Chlipala, licensed marriage and family therapist and author of First Comes Us: The Busy Couple's Guide to Lasting Love, regular check-ins with your partner play a huge role in strengthening a couple's relationship. "Knowing that you can depend on your partner is essential for attachment and trust," she previously told Elite Daily. "It's not realistic to meet your partner's needs all of the time, but strive to try to meet them somewhat consistently."
But how can you meet these needs via text? A "how is your day going?" message can usually do the trick. Of course, if you already talk to your partner every day, you may be looking for a creative way to shake up their inbox. The good thing is that it's super easy to personalize these messages for your SO's needs. Maybe you ask about that big meeting they were nervous about or offer to make dinner for the both of you tonight. No matter what text you send, the message you're really getting across is "I'm here for you."
Dr. Gary Brown, a prominent couples therapist in Los Angeles, explained to Elite Daily, "Ask your partner every day, 'Is there something I can do to make your day a little better?' Just asking this question demonstrates to your loved one that you care about them, their needs, and their well-being."
In fact, that's a good rule to apply to any and every "how was your day?" message: Does the text show that you genuinely care about them, their needs, and their well-being? If not, I'd take a beat before hitting send. And, if you're stuck, still looking for some creative ways to check in with your SO during the day, try sending these 12 texts.
Sending your partner a thoughtful text during the day can be a sweet way to let them know that they're on your mind. Whether you decide to send them a throwback picture or ask them for an update on the latest work gossip, personalized texts to your SO show that you care. No matter which route you take, a "how was your day?" text from you can brighten your partner's day.
Experts:
Anita Chlipala, licensed marriage and family therapist and author of First Comes Us: The Busy Couple's Guide to Lasting Love
Dr. Gary Brown, couples therapist
This article was originally published on